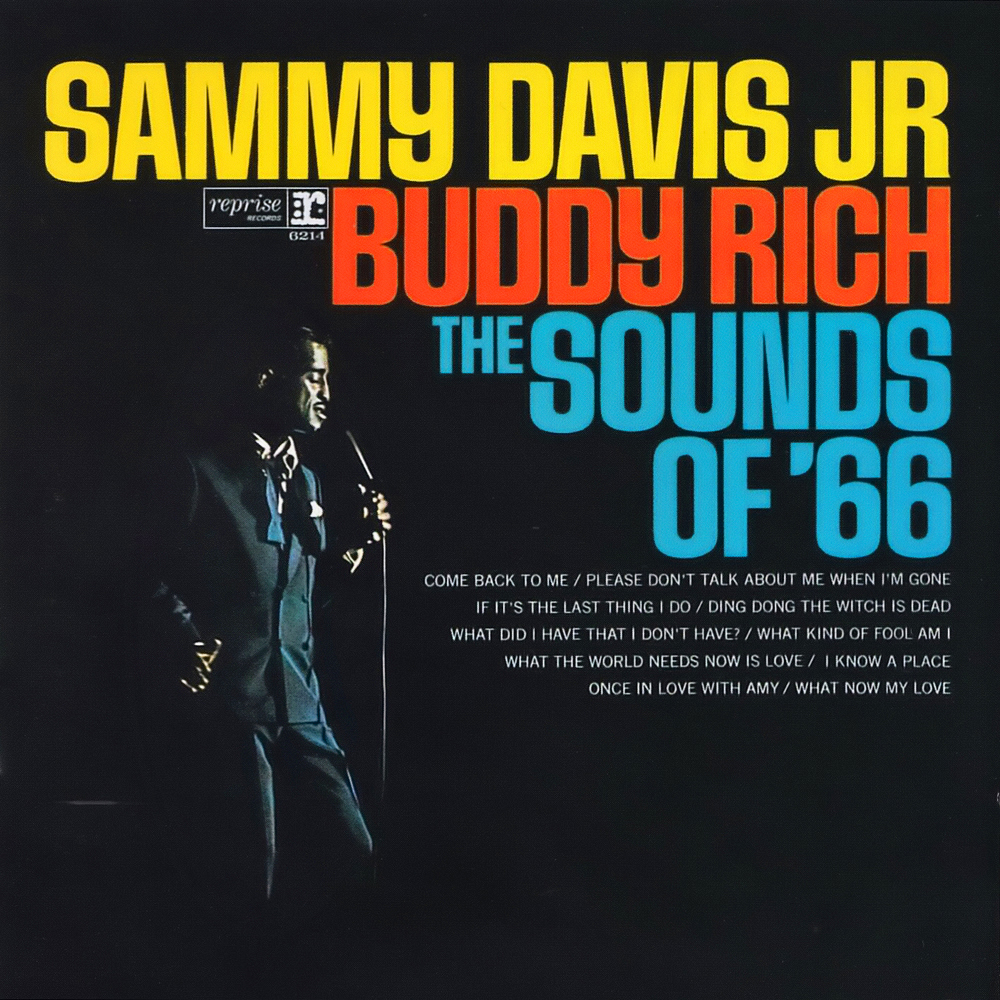 Details
The Sounds Of '66 is a high-water mark in Sammy Davis, Jr.'s recording career, and it is easily one of the greatest live Las Vegas albums of all time. Paired with dynamite (albeit cantakerous) drummer and long-time friend Buddy Rich and his brand new Buddy Rich Orchestra, Sammy swings this album something fierce. The album's producer, Jimmy Bowen, recalls: "With Sammy and Buddy, it was like combining nitroglycerine and gasoline and striking a match. Buddy had such energy bursting out of him. Sammy did too. The audience just lit up!"
In June 1966, Buddy Rich and his band had just opened for a week's worth of shows at The Baghdad Theatre in the Aladdin Hotel in Las Vegas. Rich had left the Harry James big band the previous year with the aim of starting his own orchestra, a curious decision given this was a time when the popularity of big band jazz was on the wane. Sure enough, the band struggled to get traction and secure bookings in the era of the British rock invasion.
Meanwhile, down the strip at The Sands Hotel, Sammy Davis, Jr. was also in town, performing two shows a night. Having finished up his run on Broadway in Golden Boy in March, this was his first visit to Las Vegas in several years. Reprise Records were on hand to record a live album from his performances in the Copa Room, and the resulting 2-disc LP would be titled That's All! The album captures a jam session between Sammy on vibraphone and Buddy Rich, who happened to be in the audience and is introduced by Sammy as "the world's greatest drummer".
Buddy, Sammy and singer Mel Tormé had been good friends since the late 1940s when the trio were living in New York, and presumably Buddy and Sammy had wanted to work together for some time. The decision was made to record a full album together; the pairing would prove to be a match made in Las-Vegas-showroom-early-morning-swinging-sixties-big-band heaven.
In an article about about The Sounds Of '66, writer Richard L. Eldredge revealed that a disagreement between Buddy and Sammy during rehearsal almost torpedoed the entire endeavour… nonetheless, arrangements were made for Rich's big band to set up at The Sands on the 18th June for two nights' worth of recordings from 3am until dawn. This was after the conclusion of both Sammy's two shows and Rich's set at The Aladdin. Reprise Records producer Jimmy Bowen and engineer Eddie Brackett set up to record history in the making. Arrangers Ernie Freeman and George Rhodes were given the task of writing some hard-swinging charts specifically for the occasion, and they didn't disappoint, doing some of the best work of their careers.
The word was sent out around town to Vegas performers to head to The Sands after their own shows to make up the audience and they did so in droves (Tony Bennett was in the front row). On the album, Sammy says: "In the audience tonight is predominantly performers who have been nice enough to come into The Sands Hotel's Copa Room after their shows … every one of the hotels on the strip is represented, and downtown, and it's nice to look around the room and see that you've got all the friends and buddies here, as well as family."
The energy Sammy brings is off the scale, and in retrospect many of Buddy Rich's bandmates (like guitarist Barry Zweig) consider Rich's super-dynamic contributions better than those on the Buddy Rich Orchestra's solo recordings from the same period. In A Biographical Guide to the Great Jazz and Pop Singers, Will Friedwald writes: "The Sounds Of '66 has everything going for it, not least of which is that Buddy Rich has never played better … every track finds Davis giving everything he's got to give, and that's more than enough."
The song selection provided a nice mix between Broadway fare – two numbers from the then just-closed musical On A Clear Day You Can See Forever ("Come Back To Me" and "What Did I Have That I Don't Have?"), pop songs like the Petula Clark hit "I Know A Place" and Burt Bacharach's "What The World Needs Now Is Love," plus the swingin'-est take on "Ding Dong, The Witch Is Dead" anyone will ever hear (highlighted by a Jay Corre tenor sax solo quoting from "The Surrey With The Fringe On The Top"). Sammy even takes his signature tune "What Kind Of Fool Am I" and makes it swing – a vastly different approach than his usual interpretation.
The Sounds Of '66 (its working title was 'Sandside' and was changed at the last minute) wasn't a commercial hit by any means, but the album has become a 'cult classic' favourite amongst some fans of vocal and big band jazz. The album's publicity at the time certainly helped Buddy Rich; in Traps The Drum Wonder: The Life of Buddy Rich, he told his biographer Mel Tormé, "I needed that. I was beginning to have doubts that I could ever get my new band off the ground. That record really helped to establish us."
What we are left with is a superlative time capsule of Las Vegas in 1966, and if ever proof was needed that Sammy Davis, Jr. could swing with the best in the world of big band jazz, may this LP be entered as 'Exhibit A'. About the only negative thing anyone has ever said about The Sounds of '66 is that at 29 mins total, it is too short!
Track listing
| | | | |
| --- | --- | --- | --- |
| Track | Record Date | Song | Time |
| A1 | | Sammy's Introduction | 1:08 |
| A2 | 18/6/1966 | Come Back To Me | 2:56 |
| A3 | 18/6/1966 | I Know A Place | 2:27 |
| A4 | 18/6/1966 | What Did I Have That I Don't Have? | 3:43 |
| A5 | 19/6/1966 | What The World Needs Now Is Love | 3:05 |
| A6 | 19/6/1966 | Once In Love With Amy | 2:45 |
| B1 | 19/6/1966 | Ding-Dong! The Witch Is Dead | 1:49 |
| B2 | 19/6/1966 | What Now My Love | 3:08 |
| B3 | 19/6/1966 | What Kind Of Fool Am I | 3:07 |
| B4 | 18/6/1966 | If It's The Last Thing I Do | 3:24 |
| B5 | | Sammy's Closing | 0:49 |
| B6 | 18/6/1966 | Please Don't Talk About Me When I'm Gone | 3:18 |
TOP TWO TRACKS

Come Back To Me: The opening track sets the scene for the entire album: Sammy pilots proceedings into hyperdrive, while Buddy Rich plays like a man possessed. Even his own bandmates had difficult keeping up with him! Trumpeter Bobby Shew recalls: "One song that stands out is 'Come Back to Me'. Coming out at the end, there's a little drum solo. But Buddy turned it around on us. His solo was off the wall and screwed us up on when to come back in. Instead of playing something recognizable, Buddy played an odd figure that left us with no clue as to when he needed us back in. Fortunately we worked it out and all turned out fine. But I learned a few valuable lessons: Never assume everything is always going to be cool. Pay absolute attention to the soloist."



What Now My Love?: The perfect combination of song, singer, drummer, arrangement, musicians and audience – this recording just simply wouldn't be possible in a studio. Following a nice Barry Zweig guitar intro, Sammy takes the French tune (which was a hit at the time for both Sonny & Cher and Herb Alpert and the Tijuana Brass) and delivers an inspired reading, feeding off the energy of the crowd, and finishing with a subtle low-key ending. Magic.
DEEP CUTS

What Did I Have That I Don't Have?​: Ever the lover of all things Broadway, Sammy includes a second song from the Alan Jay Lerner and Burton Lane musical On A Clear Day You Can See Forever, which is gender-switched from the original and given the very best ballads-that-swing treatment that money can buy. "Where can I go to repair, all the wear and the tear? Till I'm once again the previous me!"

Please Don't Talk About Me When I'm Gone: A fitting finale to the proceeding nine tracks of pure adrenalin. Sammy powers through the venerable 1931 standard, but takes the opportunity in the middle of the song for a quick rant: "I am gettin' sick and tired of everybody tellin' me what I gotta do. Now, I'm gonna preach this mornin'!" (For some reason the interlude is cut out of different versions of the album.) In conclusion, Buddy Rich pulverises his drum kit in a notable solo before the two legends sign off from one of the best albums Reprise Records ever pressed.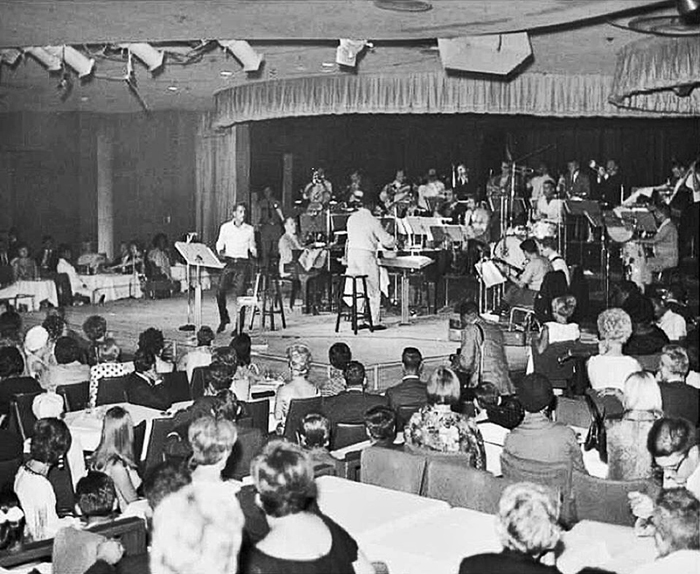 Release notes
This album has had three official reissues on CD.
It is also readily available for download and on streaming platforms.
There were several other recordings made at the same live sessions. One of them, "Like Young", was unreleased until it appeared on a 2001 compilation CD release from UK label Charly titled Here's… Sammy Davis, Jr. It was a somewhat bizarre way for an unreleased track from such a famous album to see the light of day, and it's unknown whether the other unreleased recordings on the Reprise master listings exist somewhere.
 1996
The Sounds of '66
DCC Jazz DJZ-625
Official reissue. Excellent remastering from Steve Hoffman.
However, it inserts an additional recording ("The Birth of the Blues") in between tracks 2 and 3 that was not recorded at the same sessions with The Buddy Rich Orchestra, but was instead recorded as part of Sammy's regular performances at The Sands and was later released on That's All! This is not explained in the CD at all, and it appears as though this was part of the original album, which it was not.
In addition, it removes Sammy's spoken interlude in "Please Don't Talk About Me When I'm Gone".
Finally, the track listing on the CD inserts incorrectly places "Once In Love With Amy" before "What The World Needs Now".
 
2004
The Sounds of '66
Collectors' Choice Music CCM-493
Official reissue. Excellent liner notes from James Ritz.
Also removes Sammy's spoken interlude in "Please Don't Talk About Me When I'm Gone".
 
 2005
The Sounds of '66
Warner Jazz 8122736722
Part of their "Reprise Masters" series, this is an excellent release of the original album, with liner notes by Keith Shadwick.
(Contains the full "Please Don't Talk About Me When I'm Gone".)
 2008
The Sounds of '66
Rhino/Warner Bros.
Available for download and streaming.
(Contains the full "Please Don't Talk About Me When I'm Gone".)