The 'Rat Pack' Recordings
The 'Rat Pack' legend was forged in February 1960 during the filming of Ocean's 11 in Las Vegas. After filming during the day, Frank Sinatra, Sammy Davis, Jr., Dean Martin, Peter Lawford and Joey Bishop performed a nightclub act at the Sands Hotel each evening in an extravaganza they referred to as 'The Summit'. Click here for more about Sammy and the 'Rat Pack'.
While various members of the circle would occasionally team up for movies in subsequent years, it was Sinatra, Martin and Davis's regular performances on stage together through the early 1960s that would cement these three in showbiz consciousness. See below for notable releases of 'Rat Pack' material.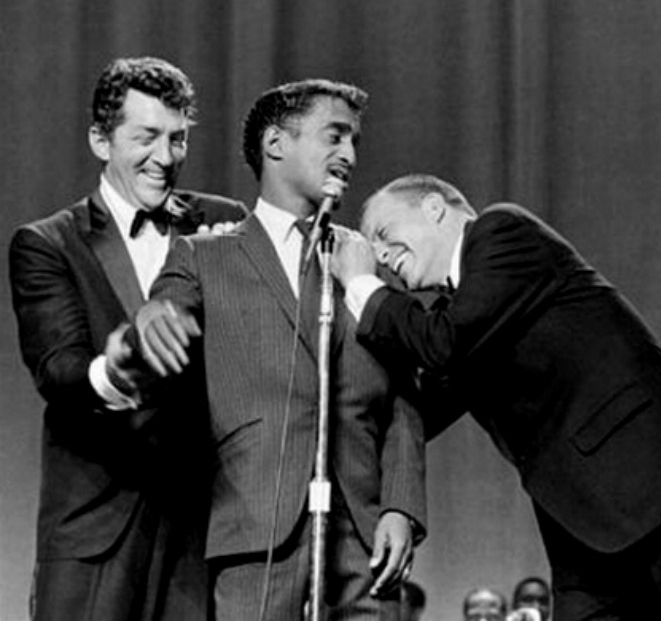 August 1962 – Atlantic City
Recording made at the 500 Club in Atlantic City, New Jersey. Only made available as a souvenir from the Sinatrama Room at the Latimer Café in Philadelphia.
1962
Souvenir From Sinatrama Room – Collector's Item
25th August 1962
October 1962 – Reprise Records
Two duets were recorded in-studio for release on a Reprise 45rpm single, one between Frank and Sammy, and one between Dean and Sammy. These two songs became part of the trio's live repertoire. The single peaked at #46 on the Billboard Hot 100.
1962
Me And My Shadow / Sam's Song
22nd October 1962
November 1962 – Chicago
Recording made at the Villa Venice nightclub in Chicago, Illinois. Reprise Records recorded material from around 15 shows across 7 days, but never released an LP from the material. There have been several releases, most mixing content from different nights.
1993
At Villa Venice, Chicago (Vols. 1 and 2)
26th November 1962
1999
The Summit: In Concert
Edited performances from 26th Nov to 2nd Dec
2003
Live And Swingin' – The Ultimate Rat Pack Collection
Edited performances from 26th Nov to 2nd Dec
September 1963 – Las Vegas
Back where it all started, at the Copa Room of The Sands Hotel in Las Vegas, Nevada. Reprise Records again recorded material which wasn't released. Bootleg copies of different nights' material exist.
2001
The Rat Pack: Live At The Sands
7th September 1963
2001
Ratpack: From Vegas To St. Louis
Partially from 6th September 1963
June 1965 – St. Louis
Held at the Kiel Opera House in St. Louis, Missouri, this was a live benefit telecast to support Dismas House of St. Louis, a halfway house for ex-convicts. The footage, thought to be lost, was uncovered in 1997 and officially released in 2003. Emceed by Johnny Carson.
2001
Ratpack: From Vegas To St. Louis
20th June 1965 (audio CD only)
2003
Live And Swinging' – The Ultimate Rat Pack Collection
20th June 1965 (DVD video)
March 1988 – Minneapolis
Frank, Dean and Sammy did six shows together as part of their 'Together Again' tour, at which point Dean dropped out. Frank and Sammy continued as a pair for a further 12 shows. This recording is from the Metro Center Arena in Bloomington, Minnesota.
1990
Sinatra And Sammy: North Country Concert
22nd March 1988
Official Compilations
There are a million 'Rat Pack' compilation albums in existence. Most are poor quality and utilise easily licensable material rather than try to present an accurate picture of Sinatra, Martin and Davis's recordings of the time. The following are official releases and hence contain music actually recorded around the time the trio were regularly collaborating with each other.
| | | | |
| --- | --- | --- | --- |
| | | 2001 | Eee-O Eleven: The Best Of The Rat Pack |
| | | 2002 | Christmas With The Rat Pack |
| | | 2004 | The Rat Pack: Boys' Night Out |
| | | 2011 | The Very Best Of The Rat Pack |