Mood To Be Wooed

Artist: Sammy Davis, Jr. with Mundell Lowe
Format: LP
Label: Decca
Cat. Num.: DL-8676
Rel. Date: 17 February, 1958
Re-issued as: "Try A Little Tenderness", 1965
SDJr.info Rating: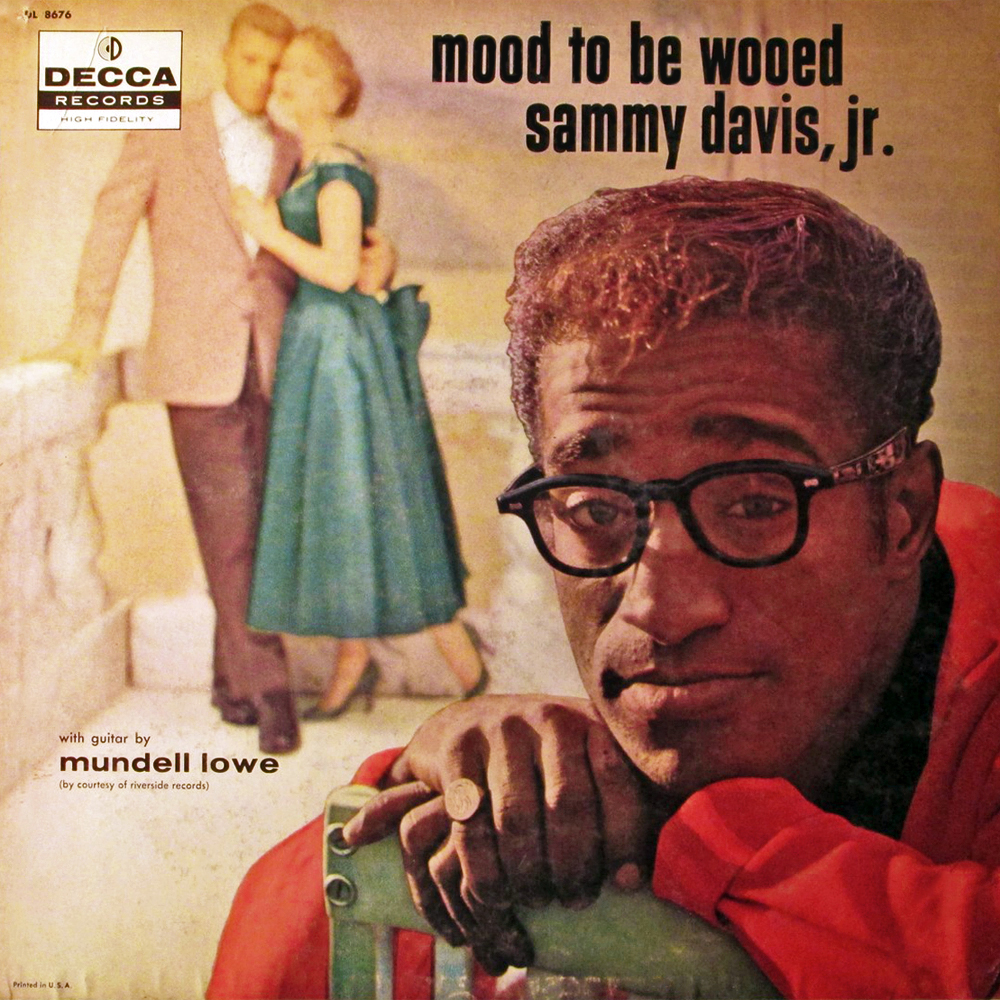 Mood To Be Wooed

Artist: Sammy Davis, Jr. with Mundell Lowe
Format: LP
Label: Decca
Cat. Num.: DL-8676
Rel. Date: 17 February, 1958
Re-issued as: "Try A Little Tenderness", 1965
SDJr.info Rating:
Details
Just over three years into his contract with Decca Records, the release of Mood To Be Wooed saw Sammy Davis, Jr. step boldly out of the shadow of Frank Sinatra, as if to prove he was no mere jack-of-all-trades entertainer with the singing voice of a skilled mimic, but a serious recording artist with something new to say.
On this album Sammy was paired with the sole accompaniment of Mundell Lowe on electric guitar, and given a roster of tender ballads: no place to hide – just a mic, a guitar, and an opportunity to demonstrate his capacity for interpretation. On previous albums Sammy had already toyed with singing passages accompanied only by guitar, but it was a daring decision to record an entire album in such fashion.
Author Will Friedwald wrote in liner notes to The Sammy Davis, Jr. Story CD boxset that "… Ella Fitzgerald and Tony Bennett recorded albums with just piano, but Davis' guitar-only package seems to be unique. June Christy's The Intimate Miss Christy used guitar, bass, and flute, and Julie London employed similar instrumentation in many packages. Still, the only singer to follow up Mood To Be Wooed was Davis himself".
Indeed, a decade later Sammy would record another guitar-only album, the admittedly sublime Sammy Davis, Jr. Sings, Laurindo Almeida Plays, but this has meant that Mood To Be Wooed gets somewhat unfairly overlooked. Freed from his show-business excesses and forced by the nature of the recording to abandon his instinct for tomfoolery, Sammy revels in the subdued, romantic mood created, and delivers emotion worthy of the unique endeavour.
The recordings were made during October 1957 in New York, where then 35-year-old Mississippian Mundell Lowe was the guitarist for the house band at The Today Show, while working for NBC television as an arranger. He had released his own albums on Riverside Records, and worked as a sideman on several albums with Carmen McRae in the mid-1950s, including two on Decca. He was a logical choice to be paired with Sammy.
Jazz bassist Bob Magnusson told JazzTimes of Lowe: "I got to work with a lot of that generation of guitarists – Joe Pass, Laurindo Almeida, Charlie Byrd – and Mundell is my favorite. He plays the fewest notes of all of them. But he has the best feel, rhythmically, and the best sound, musically, and he always chooses the most melodic lines."
TOP TWO TRACKS

Bewitched, Bothered and Bewildered: Will Friedwald writes: "On the two guitar albums [Sammy is] never less than a heavyweight, particularly on the final line of "Bewitched", in which he gives the perfect amount of stress to each adjective: 'bewitched' (coming on strong), 'bothered' (sounding more passive) and 'bewildered' (sounding just plain bewildered)."



Deep In a Dream: Despite inauspicious beginnings (Jimmy van Heusen's music was used in 1939's Chuck Jones-directed Warner Bros. cartoon Naughty but Mice over a scene of a mouse called Sniffles buying alcoholic cold medicine), this is simply a beautiful love song, and Sammy makes the most of the story told by bandleader Eddie DeLange's lyrics.
DEEP CUTS

For All We Know: A great reading from Sammy of this well-known standard, and Lowe is delightfully minimalist in support. Interestingly, Sammy's close friend Nat King Cole recorded a similarly laid-back and intimate version of this in 1949 with his Trio (with Irving Ashby's guitar the main accompaniment), which may have provided Sammy with some inspiration.

Mam'selle: It was a decade after six (!) versions of this song all had became hits across just three months in 1947. From the film The Razor's Edge (Edmund Goulding both directed the movie and composed the song's music), "Mamselle" has a bittersweet finish which is perfectly suited to this album's introspective setting.
Release notes
Decca re-released Mood To Be Wooed seven years after its initial release, re-titled as Try a Little Tenderness.
This album has never been officially re-issued on CD (outside of Japan), and is not available for digital download either (although a couple of individual tracks are). A terrible vinyl rip is available for streaming on Amazon in Europe.
1965
Try a Little Tenderness
Decca DL-4582 (mono), and DL-74582 (simulated stereo)
The track listing is identical, but presumably Decca felt the need to capitalise on Sammy Davis, Jr.'s early 60's popularity and re-released Mood To Be Wooed with a different title. Two versions were released, one with simulated stereo (the original had been recorded in mono).
1993
Mood To Be Wooed
MCA (Japan) MVCM-293
Currently a relatively rare online item, the only CD issue of this album is this Japanese release. Contains a booklet with liner notes in Japanese, and lyrics to all songs in English. The audio suffers from significant reverse echo (unknown if this was part of the original recording).