The Desperate Hours

1958

Hollywood Center Theater
Opened: 8th November, 1958 (24 performances approximately)
Director: Michael Ferrall
Cast: Sammy Davis, Jr., Jim Waters, Anne Barton, Olive Sturgess, Philip Grayson, Roy E. Glenn, Morris Erby, John Dennis, Buddy Bregman, Ted Stanhope, David Landfield.
Producer: Tim Baar / Staging: Phil Barber / Lighting: Sam Reynolds

1962

Mineola Playhouse
Opened: 20th August, 1962 (16 performances)
Westport Country Playhouse
Opened: 3rd September, 1962 (8 performances)
Director: Lloyd Richards
Cast: Sammy Davis, Jr., Jim Waters, Kathleen Maguire, Judith Robinson, Roy E. Glenn, Morris Erby, Remo Pisami, Val Avery, Pat Henry, Ricky Albert, James Olsen.
Producer: Henry T. Weinstein and Laurence Feldman / Staging: Fred Voelpel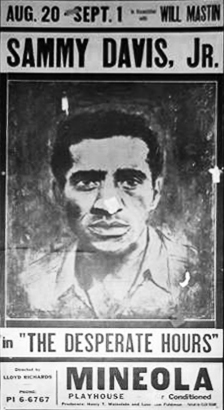 The Desperate Hours
1958
Hollywood Center Theater
Opened: 8th November, 1958 (24 performances approximately)
Director: Michael Ferrall
Cast: Sammy Davis, Jr., Jim Waters, Anne Barton, Olive Sturgess, Philip Grayson, Roy E. Glenn, Morris Erby, John Dennis, Buddy Bregman, Ted Stanhope, David Landfield.
Producer: Tim Baar / Staging: Phil Barber / Lighting: Sam Reynolds
1962
Mineola Playhouse
Opened: 20th August, 1962 (16 performances)
Westport Country Playhouse
Opened: 3rd September, 1962 (8 performances)
Director: Lloyd Richards
Cast: Sammy Davis, Jr., Jim Waters, Kathleen Maguire, Judith Robinson, Roy E. Glenn, Morris Erby, Remo Pisami, Val Avery, Pat Henry, Ricky Albert, James Olsen.
Producer: Henry T. Weinstein and Laurence Feldman / Staging: Fred Voelpel
Details
In 1958, Sammy Davis, Jr. was busy establishing himself as an actor. He started shooting Anna Lucasta in May, taped a leading role on the television anthology series General Electric Theater in August, and started Porgy and Bess in September. It was important to Sammy that he demonstrate credibility as a conventional dramatic actor. One way to assist with this was to take on a stage play role in a well-known play at a playhouse in the middle of Hollywood.
The Desperate Hours was a 1955 play by Joseph Hayes, based on his 1954 thriller novel of the same title. It ran for 212 performances on Broadway with Paul Newman in the starring role of Glenn Griffin, leader of three escaped convicts who take over a suburban home as a hideout and hold the occupants hostage. The play, loosely based on actual events, was turned into a screenplay by Hayes and a film was released in October 1955 with Humphrey Bogart in the Griffin role. Davis relished the opportunity to take on a role associated with his two friends, Bogart and Newman.
This was most probably the first time in Hollywood that a role originated by a white actor had been subsequently played by a black actor. The show's opening was delayed a week due to Sammy's role in Porgy and Bess, when producer Samuel Goldwyn put his foot down. Goldwyn was quoted as saying: "Sammy's been playing all kinds of benefits, a show every night, and he will wear out his welcome. I've given my consent to many of them. He can do his stage show after he finishes Porgy."
Finally opening on 8 November, 1958, at the Hollywood Center Theater (now the Howard Fine Acting Studio), the show ran for three weeks and about 24 performances. Critical appraisal of Sammy's performance was generally positive. The Hollywood Reporter claimed Sammy "delivered a strong – at junctures, electrifying – performance", while the LA Times noted his penchant for over-acting: "He rises to melodramatic heights on occasion – sometimes these heights are a bit too high, as he rants and raves with bellowing voice at his hostages … On the credit side, Davis reveals good stage presence and his acting movements are smooth for the most part."
Something of a vanity project, the production featured several of Sammy's friends, including actors James Waters and David Landfield (at the time Sammy's previous and current office managers respectively) and arranger Buddy Bregman (who was at that point preparing arrangements for two Davis LPs), in his acting debut as a Federal agent. The show was directed by Michael Ferrall using what the LA Times reported was a complicated set: "Central staging is used for the presentation, with spectators ringing the floor in tiers on three sides. A second, raised set, divided into two rooms, occupies the fourth side of the theater and action is diverted, using the blackout system of lighting, between this and the main floor setting back and forth. We are thus allowed to slip away from the living quarters of the imprisoned Hilliard family and watch police headquarters at work, or to join grim rescuers in an attic next door."
Revival in 1962
Four years later, in August 1962, Davis decided to reprise his role on the east coast. James Waters, Roy E. Glenn and Morris Erby returned from the original production, with Kathleen Magurie, Remo Pisami, and Pat Henry joining the cast. Henry, a comedian, toured the previous year with Davis as his opening act. The play was directed by Lloyd Richards, who had been Tony nominated for directing the acclaimed A Raisin In The Sun, featuring Sidney Poitier, on Broadway in 1960. The show played from 20 August at the Mineola Playhouse on Long Island for two weeks, and then moved to the Westport Country Playhouse in Connecticut for a final 8 performances, finishing 8 September.
Critics were still distracted by the integrated cast. The New York Post's reporter found it notable that: "Without any hokey 'explanation' or alteration of lines and situations, the Negroes are just there, one on the right side of the law, two on the wrong side, among others who do not happen to be Negroes." Time Magazine published an article titled "Dark Side of the Masque" regarding the paucity of roles for black actors on the stage and in films or television. It said: "Davis' talents give the role a snarling power it has seldom had since Newman played it, and it scarcely matters that the convict has changed his race. All the same, Davis' presence in the play is remarkable; it is one of the very few times that a Negro actor has stepped into a part specifically written for a white man."
Interviewed for the article, Davis made reference to a recent Broadway production: "How can you have a play called Subways Are for Sleeping and not have Negroes in it? The subways are full of Negroes. Either the producers are worried about how the South will like it, or they're afraid to make a Negro a 'heavy' because they think the N.A.A.C.P. or somebody won't like it. It's equally stupid on both sides."
The article's writer continues: "Negroes do not want parts that would be visually ludicrous or uncomfortable … A Negro actor playing the part of a president of a major corporation would probably require 'white face' to be realistic – a clearly ridiculous possibility. But many roles remain: doctors, detectives, soldiers, salesmen – all the postures and places in which a Negro might logically expect to find himself. 'The actors are there, they're waiting, they could do it, but they never get a part,' Davis says. 'The way you got to do it is bring a couple of guys with you. I'm a star. I can make some demands, and one of them always is to make room for a couple other cats.' Davis has had more luck than any other Negro in playing major roles that have little or nothing to do with race."