In honour of Inauguration Day in the United States today, we highlight a song Sammy Davis, Jr. recorded paying tribute to the White House, democracy, and the peaceful transfer of power. There is no better time than today to celebrate these aspects of the United States.
The song is titled "This Is The House Of The People" and is a little-known recording from the mid-1970s (a time obviously not lacking in political controversy itself). Its lyrics – which Sammy partly speak-sings – venerate previous Presidents, and talk in stark tones about the 'American way': 
"This house belongs to everybody … whether you came in first class, steerage or chains"
"When it has to be changed, we do it by laws instead of guns"
"Maybe we should stop thinking of ourselves as individuals, and think of ourselves as Americans".
Sammy is supported in the endeavour's impassioned patriotism by the backing vocals of The Mike Curb Congregation.
Placed in historical context, the song is a fascinating piece of Americana. Sammy recorded it on 24th August 1974, just 15 days after President Richard Nixon resigned following the Watergate scandal and Gerald Ford had taken his place in the White House. Sammy's close association with Nixon was a stain on Sammy's reputation that he (arguably unfairly) never managed to fully remove, so the decision to record a paean to the White House was a curious choice at that exact moment. Ford's decision to pardon Nixon complicated matters further.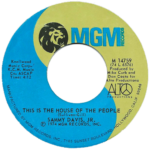 MGM released the single (on the flip side of Sammy's recording of Joe Raposo's Sesame Street song "Sing!") on 16th October, and the 45 record was the last thing Sammy ever released for MGM. By the end of November 1974, Sammy had signed with 20th Century Records. It was the end of a turbulent four year period – politically, personally and professionally.
The flag-waving glorification of 1600 Pennsylvania Ave NW, Washington, D.C., appears to be the work of author Derek L. T. Gill and singer, songwriter and all-round renaissance man Tom Sullivan. Sullivan has led an extraordinary life; born blind, for many years music was his calling. He told The Pittsburg Press in 1975: "Music has been and still is the principal format of my life … I earned my living for years by playing the piano and singing in bars and nightclubs." In-between writing songs for the likes of Pat Boone and the Osmonds, Sullivan was a regular performer in Las Vegas. He likely met Sammy there, or through his association with Mike Curb, who produced Sullivan's recordings on ABC Records.
In 1975, Sullivan released a bestselling autobiography titled If You Could See What I Hear, co-written with author Gill, so it is reasonable to suggest that "This Is The House Of The People" was a side project the pair worked on while completing the book. Sullivan has gone on to become a motivational speaker, actor, author, producer, and was the recipient of the American Foundation for the Blind's Helen Keller Achievement Award in 1997.