Art house film and video distributor Kino Lorber will be releasing two Sammy Davis, Jr. films in the Blu-ray format on 2nd February, 2021: 1958's Anna Lucasta, and 1966's A Man Called Adam. Excitingly, both feature brand new transfers from high-resolution masters and according to some reviews, the transfers are excellent. These are fitting releases for two of Sammy's most notable performances on celluloid.
Each film features outstanding jazzy scores (by Elmer Bernstein and Benny Carter respectively) and the audio provided on both releases is DTS-HD Master Audio dual-mono (16 bit). A Man Called Adam also features an Audio Commentary track by film historian and critic Sergio Mims, adding even more value to what should be an obvious purchase for any Sammy aficionado.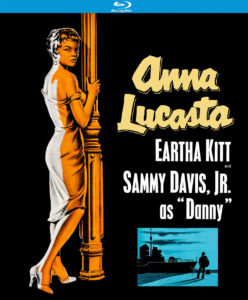 Eartha Kitt stars in the title role of Anna Lucasta, a wild child who turns to a life of prostitution when thrown out of her house by her father. The marketing of the film breathlessly tried to play up the 'scandalous' nature of the content, calling the film "That red-hot picture about that night-time girl!" and "The blistering story that undresses the heart of a tramp!". Sammy plays Danny Johnson, a sailor, and the part was Sammy's first major motion picture role.
Adapted from a popular stage play and earlier 1949 film, this version of Anna Lucasta was unloved by the critics, but was a milestone in African American cinema. It was a sincere, Hollywood studio-funded, dramatic film with a black leading cast – groundbreaking for 1958. Sammy and Eartha share a notable on-screen chemistry, complicated by a strained off-screen relationship, given Eartha had rebuffed a marriage proposal from Sammy in 1954.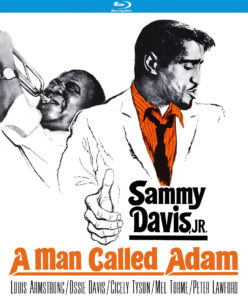 A Man Called Adam was a very ambitious exercise for Sammy, who was both producer and star of the film (and was also starring on Broadway in Golden Boy during production). He wanted to make an 'authentic' jazz film, featuring real-life jazz musicians, and he succeeded on that front by attracting a simply stellar cast (Louis Armstrong, Cicely Tyson, Ossie Davis, Ja'Net Du Bois, Mel Torme and Frank Sinatra, Jr.) and incorporating a thrilling jazz score by Benny Carter. 
While the film suffers from a melodramatic script and a problematic ending, it is elevated by Sammy's performance – Adam is a very complicated character whose mood swings wildly throughout the film, and Sammy clearly puts his heart and soul into his portrayal. Another significant entry in the annals African American cinema, many have have found this often-overlooked film to be a flawed but rewarding watch. Don't miss the impressive film debut of Lola Falana, and, if you can spot him, a very young Morgan Freeman appearing as an extra in the big party scene!