Today we mourn the passing of Tracey Hillevi Davis, who died in Franklin, Tennessee, on the 2nd November following a short illness, and was aged just 59.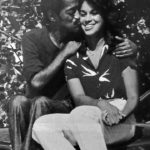 Tracey had a professional career in television and advertising, and had written two books about her father, Sammy Davis, Jr. 
Named in tribute to actor Spencer Tracy, Tracey was the daughter of Sammy and actress May Britt and was born in 1961. She was the first of Sammy's four children – Sammy and May adopted Mark and Jeff in the mid 1960s, and Sammy and his third wife Altovise adopted Manny in 1989.
Tracey's ex-husband Guy Garner told The Associated Press "She loved and adored her kids more than anything. Needless to say, they are all shocked and devastated by the loss of their mother, as are Tracey's mother, May Britt Ringquist and her brothers, Mark and Jeff."
Tracey wrote two books about Sammy. In 2014 she released a coffee table book covering the major achievements of Sammy's career, titled Sammy Davis Jr.: A Personal Journey With My Father. She had previously written a 1996 memoir titled Sammy Davis Jr.: My Father, about Sammy's absentee fatherhood and her journey to reconnect with him as an adult. 
In October, MGM Studios announced that a biopic of Sammy's life was in production based on Tracey's 1996 book. Hillman Grad's Lena Waithe and Rishi Rajani are producing with Sight Unseen's Julia Lebedev and Eddie Vaisman. David Matthews is writing the script. 
SammyDavisJr.info passes on our heartfelt condolences to Tracey's family and friends at this difficult time.