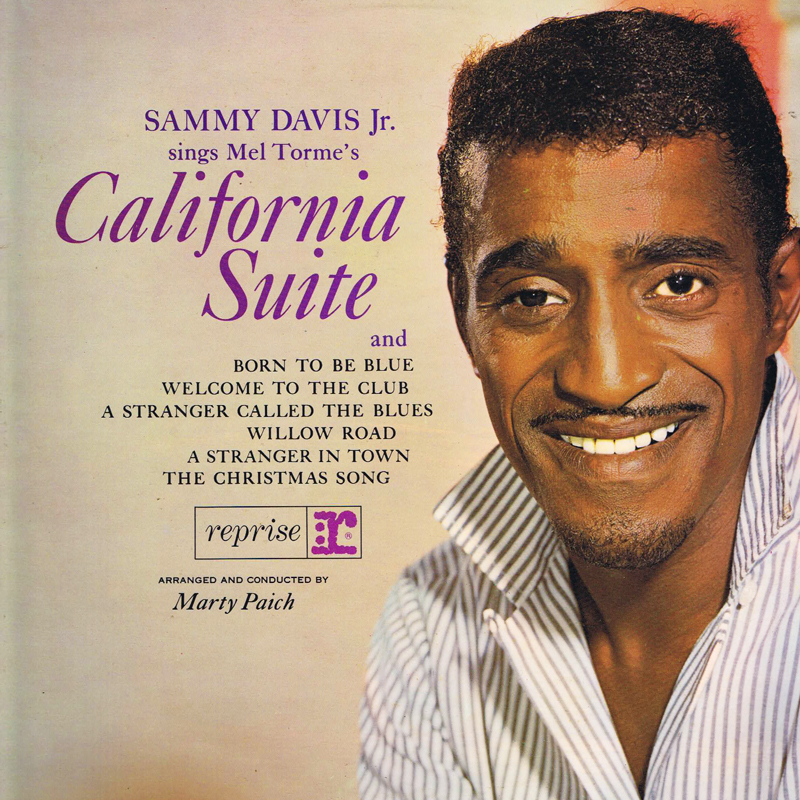 Details
Sammy Davis, Jr. and Mel Tormé were both born in 1925, were child performers, and grew into kindred entertainment polymaths – in Tormé's case he was a singer, composer, arranger, drummer, actor, and author. Along with drummer Buddy Rich, the trio formed a firm friendship while living in New York in the late 1940s.
Primarily singers, Mel's and Sammy's other myriad talents diverged somewhat: while Sammy was a dancer and impressionist, Mel was a noted songwriter and arranger. Tormé wrote his first song at age 13 and quickly became the youngest member of the songwriters' guild, ASCAP (American Society of Composers, Authors and Publishers). He composed over 250 songs in his career, and had a very successful partnership with lyricist Robert Wells from 1945-49. Five songs on this album hail from that partnership.
Tormé and Davis remained friendly through the years, and it was Tormé's groundbreaking work from 1956-60 on the Bethlehem and Verve labels with West Coast jazz bandleader Marty Paich that led to Sammy Davis, Jr. hiring Paich to work with him when he first signed with Reprise. It was only fitting, then, that Davis and Paich would ultimately collaborate on a recording of Tormé's magnum opus, his California Suite.
Tormé wrote California Suite in 1949, in part as response to Gordon Jenkins' innovative 1946 Manhattan Tower – a musical suite combining mood music, original songs, and spoken narration/dialogue to tell a story. Tormé's suite was similar in form, but where Manhattan Tower was a tribute to New York city (Sammy actually released a single of "New York's My Home" from the suite for Decca in 1957), Tormé's was a tribute to the West Coast, featuring songs glorifying San Diego, La Jolla, San Fernando, San Francisco, and Hollywood. When Tormé first recorded the suite for Capitol, the then Governor of California, Earl Warren, sent copies of the album (plus a crate of oranges) to the other 47 State Governors!
Tormé later expanded and re-recorded the suite in 1957, this time for Bethlehem with Marty Paich arranging; Sammy's 1964 Reprise recording would therefore be Paich's (and most of his loyal musicians') second go-around at the work. Happily, both Marty and Sammy knocked it out of the park (Dodger Stadium presumably!). The suite swings while providing moments of feeling and charm, and Tormé's witty lyrics and too-clever-by-half rhymes are in safe hands with Sammy. In places, the original suite's instrumental interludes were truncated somewhat, such that the entire work would fit on one side of the resulting LP.
On the flip side, the album includes six further titles written by Tormé – five of which are down-and-out blues numbers in the vein of Tormé's enduring standard "Born To Be Blue", all backed with tasteful Paich string arrangements. This is probably the most melancholy collection of titles in Sammy's recording career! A somewhat incongruous palate cleanser, the final track features Tormé's perennial holiday classic "The Christmas Song" (which Tormé would somewhat derisively refer to as 'my annuity').
In his 1964 review of this album, New Jersey critic Don Lass wrote: "This album makes two points vividly: (1) Vocalist Mel Tormé's compositions have been neglected too long, and (2) Sammy Davis, Jr. is a much better vocalist than most people give him credit for." Any listener of this album will concur on both fronts!
Track listing
| | | | |
| --- | --- | --- | --- |
| Track | Record Date | Song | Time |
| A1 | 22/11/1963 | Golden West | 3:35 |
| | | The West Coast Is The Best Coast | 4:36 |
| | | They Go To San Diego | 3:38 |
| | | Sunday Night In San Fernando | 2:14 |
| | | I Got The Gate (On The Golden Gate) | 3:09 |
| | | L.A. | 1:41 |
| | | Poor Little Extra Girl | 4:16 |
| | | The West Coast Is The Best Coast (Finale) | 1:14 |
| B1 | 21/11/1963 | A Stranger In Town | 3:45 |
| B2 | 31/1/1964 | A Stranger Called The Blues | 3:59 |
| B3 | 22/11/1963 | Welcome To The Club | 3:28 |
| B4 | 21/11/1963 | Willow Road | 3:44 |
| B5 | 21/11/1963 | Born To Be Blue | 3:14 |
| B6 | 21/11/1963 | The Christmas Song | 3:20 |
TOP TWO TRACKS

They Go To San Diego: Sammy loves his bossa nova and Marty Paich delivers accordingly, somehow simultaneously revelling in the glorious Dek-Tette jazz sound. Who cares if Sammy has no idea how to pronounce 'archipelago' – this number is still a delight from start to finish.



Born To Be Blue: Paich provides a backdrop of melancholy strings with lashings of sax solo for Sammy to deliver a very straightforward reading of the most covered of Mel Tormé's torch songs – by 1963, Nancy Wilson, Ella Fitzgerald and Ray Charles had all recorded versions. No joking around or liberties are taken here; Sammy sings it straight, and it's nigh-on perfect.
DEEP CUTS

Poor Little Extra Girl: Sammy Davis, Jr. does a great job with Mel Tormé's unusual ballad about dashed dreams – but the song is about so much more than a failure to 'make it big'. Paich initially provides just solo piano for accompaniment, before a lone guitar then joins in. Eventually the strings furnish exactly the right mood for Sammy's vocals of commiseration.

A Stranger In Town: Another curious tune, this one about arriving back in one's hometown only to discover time has moved on – again, the song is about more than the dismay of seeing an overgrown cottage. There's a very good reason that this was on Warner's seminal 1996 compilation CD I've Gotta Be Me: The Best of Sammy Davis, Jr. on Reprise – this is an outstanding cut.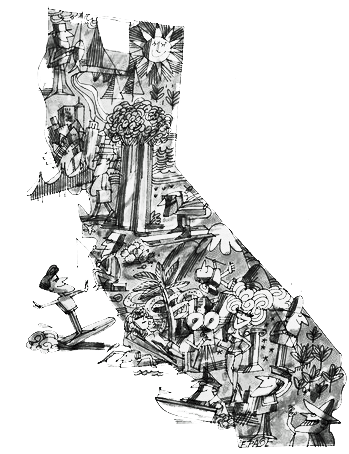 Release notes
This album received official reissues, by Collector's Choice in the US and by Warner Jazz in the UK.
It is also readily available for download and on streaming platforms.
 2004
Sings Mel Tormé's California Suite
Collector's Choice Music CCM-452
Official reissue. Excellent liner notes from James Ritz. The track listing on the back cover replaces Mel Tormé as the composer of the California Suite with four incorrect names.
2005
Sings Mel Tormé's California Suite
Warner Jazz 8122765332
Part of their "Reprise Masters" series, this is an excellent release of the original album, with liner notes by Keith Shadwick.
 2006
Sings Mel Tormé's California Suite
Rhino/Warner Bros.
Available for download and streaming.