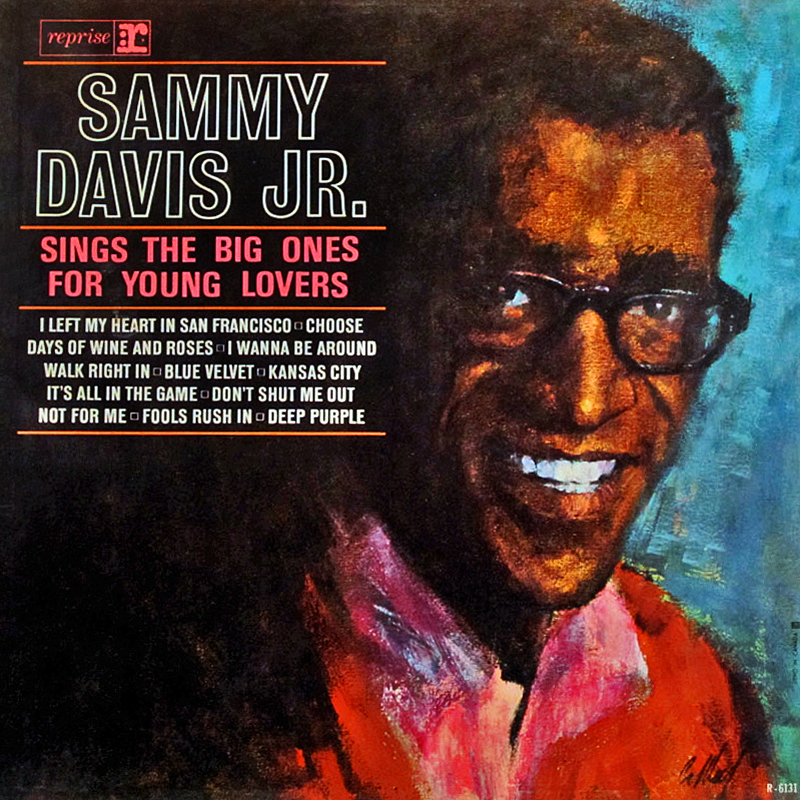 Details
It is January 1964, and as Sammy Davis, Jr. and Reprise executives were figuring out the direction of his next album, their attention must have been drawn to the impressive climb up the Billboard charts of Sammy's pop-ish single "The Shelter of Your Arms". Debuting at #100, the single had jumped to #50 in 8 weeks and was still on a vertical trajectory. Maybe Sammy should be recording music with more of a pop/rock focus?
A conversation such as this surely led to Sammy Davis, Jr. Sings The Big Ones For Young Lovers, and the album title tells the story: record the biggest hits of the day and along the way aim at a younger audience. 
Where else to start but "I Left My Heart In San Francisco"? It had been a massive hit for Tony Bennett and had beaten out Sammy's own "What Kind Of Fool Am I?" in May 1963 for the Grammy for Record of the Year. The next step was to include three Billboard #1s from 1963: "Deep Purple" (Nino Tempo & April Stevens), "Walk Right In" (The Rooftop Singers), and "Blue Velvet" (Bobby Vinton).
Sammy complemented those four with recordings of five more 1963 hits: "It's All In The Game" had been a #2 hit for Cliff Richard in the UK, "I Wanna Be Around" charted at #5 for Tony Bennett, and "Days Of Wine And Roses" charted at #9 for Andy Williams". On the popular music front, "Kansas City" had been a #13 hit for Trini Lopez, and "Fools Rush In" had reached #12 for Ricky Nelson. Sammy sings the Big Ones, indeed!
Although the resulting album sleeve fails to indicate the arrangers, it's assumed the arranger for most of these recordings was Marty Paich. He certainly provides a departure from the originals, attempting to allow Sammy to be what he was at his best: unique. "Days of Wine And Roses" is gifted a beautiful bossa nova beat, "Walk Right In" is handed the most confusing fake-out intro ever before switching to an all-out barnburner, "Fools Rush In" has a touch of Count Basie about it, while "Blue Velvet" is builds unusual texture with a spritely harpsichord (!) backing. 
When "The Shelter Of Your Arms" continued its ascent and peaked at #17 in mid-March, it appears Ricky Nelson's long time arranger and producer Jimmie Haskell was Reprise's first call to try and help replicate the magic. A session was scheduled in early April, with Haskell and Harry Nilsson associate Perry Botkin, Jr. arranging three more recordings: "Don't Shut Me Out" would be a "Shelter" clone, "Not For Me" had been released by Bobby Darin in 1963, and "Choose" had been introduced by Matt Monro in January. All three proved departures somewhat from Sammy's usual style, all were included on this album, all were also released as singles … and all failed to crack into the Billboard Top 100.
Despite hiding some gems, this album is by no means one of Sammy's most cohesive collections, but there is no doubt that the title of the album accurately describes what Sammy delivers!
TOP TWO TRACKS

It's All In The Game: This song has a bizarre history (the melody was written by Calvin Coolidge's Vice President Charles G. Dawes in 1911!) and became a #1 R&B hit for Tommy Edwards in 1958. For Sammy, Marty Paich re-imagines the piece as a slow, touching ballad with oboe and harp highlights and a luscious string backing. Sammy doesn't disappoint, giving a beautiful reading of a lyric worthy of much more than a teen-angst setting.



Kansas City: For Sammy Davis, Jr. this was Kansas City, Missouri by way of Las Vegas, Nevada. He takes Jerry Leiber and Mike Stoller's rhythm and blues number and turns it into one of the swingin'-est up-tempo cuts in his entire oeuvre. When deciding the LP's track order, Reprise really chose to start this album off with a bang!
DEEP CUTS

Don't Shut Me Out: Lightning didn't exactly strike twice with this attempt to copy the stylings of "The Shelter Of Your Arms", right down to the bass line, chimes, and chorus. Even the same songwriter was involved – "Shelter" writer Jerry Samuels co-wrote the song with Lou Adessa, who published it under his pen name 'Stephanie Louis'. Released on a 45, the flip side was "The Disorderly Orderly", the title song to Jerry Lewis' film of the same name which hit cinemas in late 1964, but neither sides charted. "Don't Shut Me Out" was later covered by little-known UK singer Ken Kirkham.

Not For Me: In 1963, Bobby Darin released 18 Yellow Roses, an album of mostly hits but featuring two new songs he had written himself. The two were the title track and "Not For Me" which were also released on 45 together. The single climbed to #10 on the US charts. Jimmie Haskell adds lashings of harmonica to the quasi-rock arrangement, giving it a country feel. Sammy hits some delightful bass notes along the way and somehow it all works! 
Release notes
This album received official reissues, by Collector's Choice in the US and by Warner Jazz in the UK.
It is also readily available for download and on streaming platforms.
 2004
Sings The Big Ones For Young Lovers
Collector's Choice Music CCM-453
Official reissue. Excellent liner notes from James Ritz.
2005
Sings The Big Ones For Young Lovers
Warner Jazz 8122765342
Part of their "Reprise Masters" series, this is an excellent release of the original album, with liner notes by Keith Shadwick.
 
 2009
Sings The Big Ones For Young Lovers
Rhino/Warner Bros.
Available for download and streaming.
 2018
Sings The Big Ones For Young Lovers
Del Ray Records DR-10011
Vinyl reissue. Some changes made to back sleeve design, including officially crediting Jimmie Haskell and Perry Botkin, Jr. as arrangers of the entire album, which is most likely incorrect.