Mr. Wonderful

Opening Date: 22 March, 1956 / Closing Date: 23 February, 1957
Performances: 383 performances
Venue: Broadway Theater, New York
Producers: Jule Styne, George Gilbert, Lester Osterman, Jr.
Director: Jack Donohue
Cast: Sammy Davis, Jr., Jack Carter, Pat Marshall, Olga James, Chita Rivera, Hal Loman, Malcolm Lee Beggs, Sam Davis, Sr., Will Mastin
Book: Joseph Stein & Will Glickman
Music and Lyrics: Jerry Bock, Larry Holofcener, George Weiss
Musical Director: Morton Stevens
Tryouts: Shubert Theater, Philadelphia – 21 February, 1956 to 12 March, 1956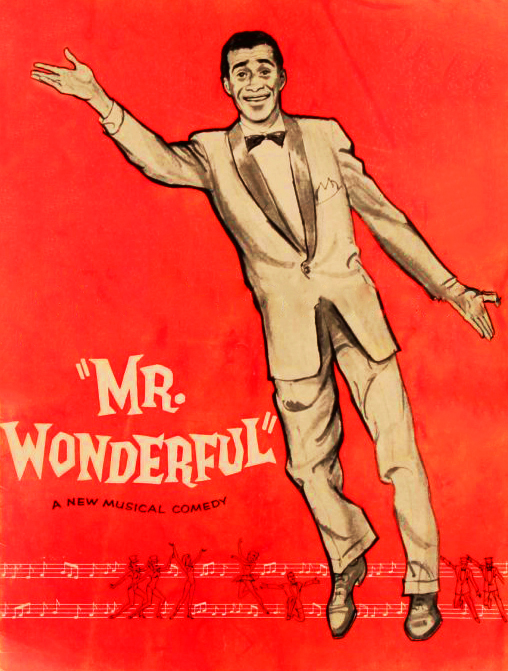 Mr. Wonderful
Opening Date: 22 March, 1956
Closing Date: 23 February, 1957
Performances: 383 performances
Venue: Broadway Theater, New York
Producers: Jule Styne, George Gilbert, Lester Osterman, Jr.
Director: Jack Donohue
Cast: Sammy Davis, Jr., Jack Carter, Pat Marshall, Olga James, Chita Rivera, Hal Loman, Malcolm Lee Beggs, Sam Davis, Sr., Will Mastin
Book: Joseph Stein & Will Glickman
Music and Lyrics: Jerry Bock, Larry Holofcener, George Weiss
Musical Director: Morton Stevens
Tryouts: Shubert Theater, Philadelphia – 21 February, 1956 to 12 March, 1956
Details
During 1955, Sammy Davis, Jr. was repeatedly approached by songwriter Jule Styne to consider Broadway. The major stumbling blocks were Sammy's indebtedness to Chicago mobsters – who were increasingly funding his profligate lifestyle by advancing his salary ahead of his nightclub dates – and resistance from his Trio partners Will Mastin and Sam Sr. to taking a break from touring and entering an unknown world of musicals. A musical with a black lead was also considered a financial risk at the time.
Solutions were found when Sammy was given a one-year-only reprieve by Chicago, and it was agreed that Will and Sam Sr. would have roles written into the show. Work could then begin to create a vehicle appropriate for Sammy. Given his limited acting experience, it was decided to make his character a nightclub performer, and Sammy's usual nightclub act would form a large part of the second act of the show to give the paying customers what they wanted to see: Sammy's act.
Sammy was intent on having a story which commented on race relations in America. Joseph Stein and Will Glickman were tasked with writing the book, and Jerry Bock and Larry Holofcener the music (pop specialist George Weiss was quickly brought on board also). The plot saw a talented but unknown black performer, Charlie Welch, living in Paris to escape discrimination in the USA. A comic, Freddie Campbell, discovers Welch, and urges him to try to make the big time in the States regardless of his misgivings.
When the show, titled Mr. Wonderful, debuted in Philadelphia for try-outs, the reviews were not positive, and the decision was made to ditch the race angle. Welch started the show instead as a small-time performer in Jersey City, and his lack of motivation to succeed became somewhat inexplicable. Sammy would later describe the change: "Instead of a story about a sophisticated, sensitive guy who doesn't want to live with prejudice, Charlie Welch has become a schnook who doesn't have the guts to try for success."
Jack Carter, Pat Marshall, Olga James and Chita Rivera (in only her second book musical) were cast in supporting roles, and the show featured an integrated chorus line, particularly noteworthy for the time. A cast album was recorded for Decca in January.
Triumph over the critics
After opening on Broadway 22 March 1956, Sammy's personal performance was generally praised by theatre critics, but the show itself was immediately subjected to almost universal disdain. Brooks Atkinson of The New York Times called it "a spectacular, noisy endorsement of mediocrity", and other critics referred to the "really dreadful story line", and called the show "plotless" and "an impersonation of a musical comedy".
Most other shows would have closed down after suffering such a barrage of negativity, but Sammy's star power had resulted in significant advance ticket sales. In the meantime, Sammy became a one-man publicity machine around New York spurring attendance. Interviews, local TV, radio, gossip columns – you name it, Sammy was doing it to drum up interest in the show.
The fact that two tunes from the score became popular also assisted at the box office: Peggy Lee recorded the title tune "Mr. Wonderful" and Eydie Gormé cut "Too Close For Comfort" – they each made the Billboard charts, for 15 weeks and 14 weeks respectively. A headline in Billboard in March told the truth: "'Wonderful' is all score and Sammy Davis".
The nightclub act portion of the show proved particularly popular; Sammy never did a single show the same way twice, and celebrities and other Broadway performers were known to regularly pop in and sit on stage as members of the 'audience'. Word of mouth soon proved powerful, and Mr. Wonderful set into a sustainable run.
Meanwhile, after hours, Sammy held riotous parties for the cast and crew in his suite at the Gorham Hotel, indulged in his reputation as a reckless spendthrift across Manhattan, performed at a staggering number of charity benefits throughout the next year, and romanced cast member and future Broadway legend Chita Rivera.
The pressure on Sammy to return to the nightclub circuit (and in particular return to more lucrative paydays) eventually grew too great, and the show closed on 23 February 1957, having lasted 383 performances. The final show saw Jerry Lewis, Tony Bennett, Edward G. Robinson and Shelley Winters, among others, on stage during Sammy's act. Mr. Wonderful's run finished with twelve curtain calls.
Since 1957, the show has not been revived – not surprising considering a book that bad and another Sammy Davis, Jr. nowhere in sight – although plans were announced by Musicals Tonight! Inc. for a two week revival in March 2017 at The Lion Theatre. Disappointingly, the company later canned that idea and replaced Mr. Wonderful with Anything Goes.
MUSICAL NUMBERS
ACT I
1. 1617 Broadway – Rita, Hal, Ensemble
2. Without You, I'm Nothing – Fred, Lil
3. Jacques D'Iraq – Charlie, Uncle, Dad, Ensemble
4. Ethel, Baby – Charlie, Ethel
5. Mr. Wonderful – Ethel
6. Charlie Welch – Fred
7. Charlie Welch (Reprise) – Fred, Ensemble
8. Talk To Him – Lil, Ethel
9. Too Close For Comfort – Charlie
10. Without You, I'm Nothing (Reprise) – Charlie, Fred
11. Rita's Audition – Rita
12. The Audition – Charlie, Uncle, Dad
ACT 2
13. There – Charlie
14. Miami – Lil, Ensemble
15. I've Been Too Busy – Ethel, Fred, Lil, Charlie
16. Mr. Wonderful (Reprise) – Charlie
17. The Act – Charlie (Uncle, Dad)
18. Finale: Mr. Wonderful – Company