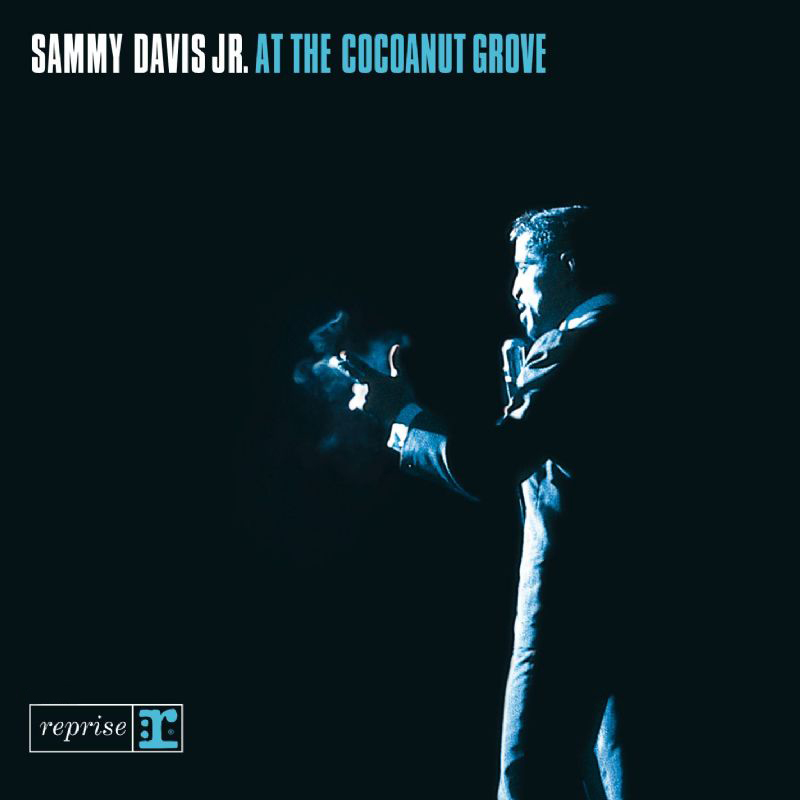 Details
The Ambassador Hotel was opened in 1921, designed to provide then-booming Los Angeles with a truly world-class hotel, and it remained an LA landmark (even after its closure in 1989) until its demolition in 2005. Soon after opening, its ballroom was converted into an opulent nightclub named the Cocoanut Grove, intended to attract the glitterati of nearby Hollywood. The Grove quickly became the place in LA to see and be seen, and hosted the Academy Awards six times before 1943.
In late 1962, when this album was recorded, the nightclub was still a sight to behold, placing you in the midst of an Arabian oasis with faux palms trees and a roof with twinkling stars. Everyone who was anyone had performed there, and it was a fitting location for Reprise Records to record its first live album, which would become its first double LP set. For Sammy, this was his second live record, following Sammy Davis, Jr. At Town Hall in 1958.
The LP finds Sammy Davis, Jr. at the zenith of his powers as an entertainer – he is in good voice, he is in total command of the audience, and he exhibits his full range of talents: singing, impressions, comedy, dancing, and finishing with a jam session in which he plays both drums and vibraphone. It gives you an excellent sense of what made him such a dynamic live performer – who else could provide this variety to a nightclub audience? For a good sense of Sammy Davis, Jr.'s talents as a singer, however, this wouldn't be the first place to go looking: of the 70 minutes, Sammy spends only about 30 actually singing.
The rest of the runtime is spent delighting his audience on a range of fronts. He does a virtual stand-up routine on old movies for five minutes, does a Sinatra impression on "River Stay 'Way From My Door", his full range of impressions on "Rock-a-bye Your Baby With A Dixie Melody", breaks out some soft-shoe as well (although no tapping) and jives to "Hound Dog" and "What'd I Say".
Over the course of the record, Sammy makes special note to spotlight the supporting musicians who form part of his travelling entourage – in particular he does two medleys, one with the sole accompaniment of Michael Silva on drums, and the other with Johnny Mendoza on bongos. Also featured is Terry Rosen on guitar and Reunald Jones on trumpet; Sammy's musical director George Rhodes conducts the Cocoanut Grove house band, the Dick Stabile Orchestra, which provides Sammy with excellent support.
The Cocoanut Grove nightclub had an interesting relationship with Sammy Davis, Jr. He performed at it several times throughout his career, and following his close friend Robert F. Kennedy's assassination there (in the kitchen of the Ambassador Hotel in 1968), Sammy invested heavily in the club and remodelled it, re-opening it in 1970 as the 'Now Grove'. The relaunch was a commercial failure (hardly the only venture of Sammy's to end in such a way during the 1970s).
The album Sammy Davis, Jr. At The Cocoanut Grove is anything but a failure, however; it gives you a ringside seat for a performance by the world's greatest entertainer at the peak of his popularity.
Track listing
| | | | |
| --- | --- | --- | --- |
| Track | Record Date | Song | Time |
| A1 | | Introduction | 0:44 |
| A2 | 10/1962 | Once In A Lifetime | 2:23 |
| A3 | 10/1962 | In The Still Of The Night | 3:46 |
| A4 | 10/1962 | What Kind Of Fool Am I | 3:11 |
| A5 | | Talk | 1:39 |
| A6 | 10/1962 | Falling In Love Again | 4:00 |
| B1 | 10/1962 | I've Got You Under My Skin / Night And Day / Big Bad John | 6:32 |
| B2 | | Meeting The President | 3:10 |
| B3 | 10/1962 | Jet Song / Something's Coming / Cool / Tonight / A-me-ri-ca / Gee, Officer Krupke / Maria | 5:00 |
| B4 | | Frank Talk | 1:11 |
| B4 | 10/1962 | River Stay Away From My Door | 2:30 |
| C1 | 10/1962 | Me And My Shadow (Walking Down The Avenue) | 2:37 |
| C2 | 10/1962 | Hound Dog / What'd I Say | 3:39 |
| C3 | 10/1962 | Rock-A-Bye Your Baby (With A Dixie Melody) | 10:22 |
| D1 | | Sammy Looks At Old Movies | 4:55 |
| D2 | 10/1962 | Sam, By George! | 10:30 |
| D2 | 10/1962 | The Birth Of The Blues | 1:31 |
TOP TWO TRACKS

West Side Story Medley: Hard to argue with Rat Pack alumnus Joey Bishop, who wrote in one of the original LP's two sets of liner notes: "My favorite of this album is the West Side Story medley (which made me so sentimental I kept over-tipping the Puerto Rican bus-boy), done by Sammy with only bongo accompaniment. (That Sammy is always saving money on arrangements.) Actually the whole side that Sammy does with percussion is alone worth the price of the album."



Falling In Love Again: Sammy starts out by imitating his wife, May Britt, who was presumably in the audience. She had sung this song – which is usually associated with Marlene Dietrich – in the 1959 American remake The Blue Angel. She also released the recording on 45 rpm. Sammy sings the first few lines in what must be his worst Swedish accent, before saying "Am I gonna get it when I get home…" and finishing the song straight!
DEEP CUTS

Sammy Looks At Old Movies: Sammy does a five-minute stand-up routine about old movies. It's funny, and demonstrates his love for and affinity with old cinema. It's also interesting to hear (throughout the album) how Sammy occasionally uses racial humour – subversive, but in a non-threatening way. "Don't laugh, remember one time you never thought you'd see a coloured cowboy, either, remember?" he says referring to his recent guest appearance on The Rifleman.

Meeting The President: Sammy tells of recently meeting President John F. Kennedy. The story is played for a laugh at his expense, but it's fascinating that he chooses to talk about Kennedy in such glowing terms a little under two years after being disinvited from Kennedy's inauguration (due to his marriage to May Britt). While this was not public knowledge at the time, the snub hurt Sammy immensely; being later invited to Washington D.C. to perform for Kennedy clearly meant something to him.
Release notes
This album received an official reissue on CD by Rhino in concert with Warner Archives.
Oddly, the album is currently unavailable for either download or streaming.
 2001
At Cocoanut Grove
Warner Archives / Rhino R2-74277
Official reissue. The original two sets of liner notes are included (by Joey Bishop and Army Archerd) as well as additional reflection on Sammy's singing of "Rock-a-bye Your Baby" by Josh Kun.