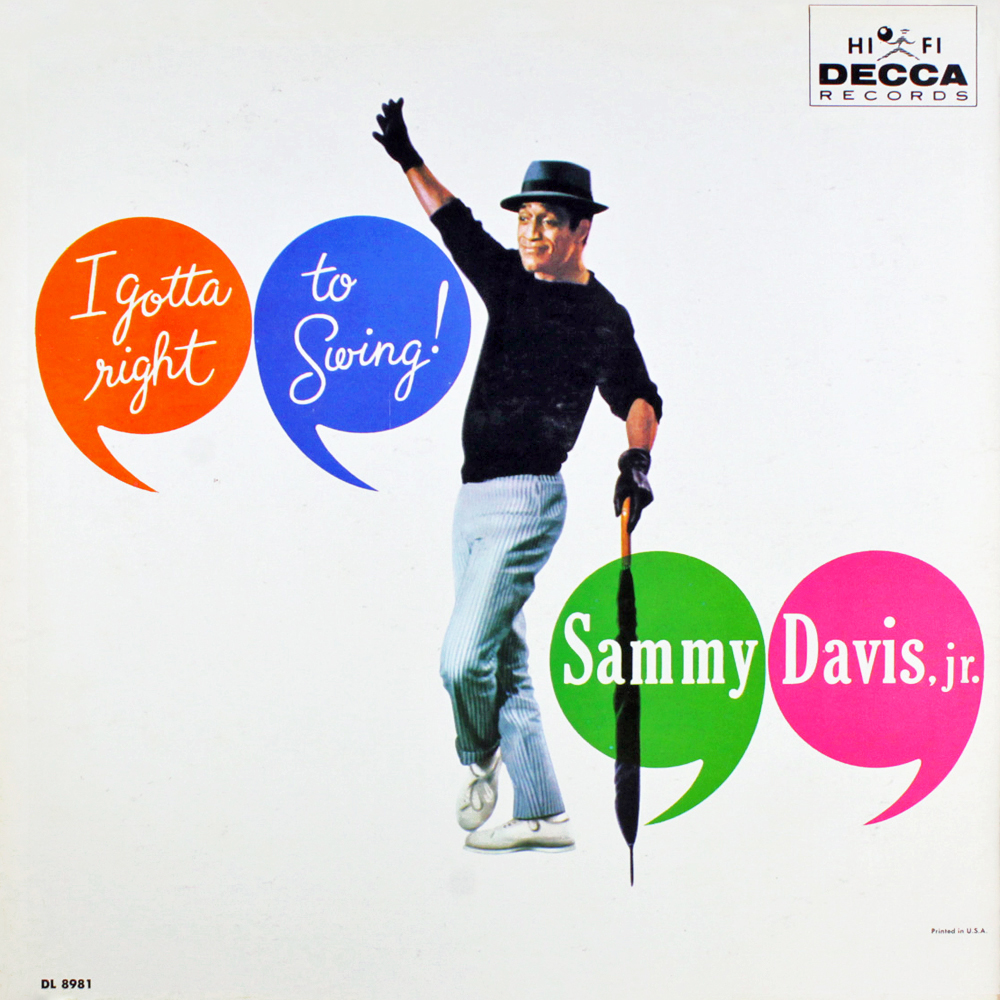 Details
One of Sammy Davis, Jr.'s best albums for Decca, I Gotta Right To Swing saw Sammy inhabiting the musical worlds of two luminaries: Count Basie and Ray Charles (two gentlemen between whom a pairing, alas, had to be a posthumous endeavour). When Sammy dug something, it wan't long before he would find a way to appropriate it into his repertoire, and it's for sure and not for maybe that Sammy dug Count Basie, and Sammy dug Ray Charles.
Sammy Davis, Jr. had a long history with The Count; the two had performed together at the W.C. Handy Theatre in Memphis in the 1940s, when Sammy was a fledgeling member of The Will Mastin Trio. But the distinctive and popular sound of The Count Basie Orchestra, and its 1950s success with vocalists Joe Williams and Tony Bennett must have left Sammy yearning to record with them. However, Basie was contracted to Roulette Records. An 'official' pairing would have to wait until 1964.
In the meantime, a solution: Basie's orchestra would back Sammy, but without Basie. Sammy's pianist George Rhodes sat in for Basie, and the orchestra remained officially uncredited, but the Basie Orchestra personnel of the day was published on the Decca LP sleeve (a first for a Davis album), so anyone in the know would see exactly what was going on. There were three sessions held in January 1960, with Sy Oliver, Jack Pleis and Morty Stevens arranging and conducting a session each.
Ray Charles was another of Sammy's musical fascinations, with his unique fusion of rhythm and blues, gospel, and jazz setting the charts alight throughout the 1950s. A fan, Sammy dutifully recorded Charles' "Hallelujah, I Love Her So" as a Decca single in 1957. In October 1959, Charles released The Genius of Ray Charles, in which he tackled more mainstream pop (supported by some Count Basie sidemen). Three months later, Sammy Davis, Jr. was in the studio heading musically in the exact opposite direction.
For this album, Sammy selected four titles closely associated with Charles ("Mess Around", "Get On The Right Track, Baby", and Charles's own "I Got A Woman" and "This Little Girl Of Mine"). In his AllMusic review, Nick Dedina writes "[Sammy] replaces his pure, Broadway croon with a rough R&B howl that makes Ray Charles sound like Sam Cooke." The entire album benefits from plenty of hot solos (especially Frank Foster on tenor sax), and the drumming of Sonny Payne.
Sammy would continue to incorporate touches of both Count Basie and Ray Charles into his live performances throughout the 1960s and beyond. Sammy often included Charles' hit "What'd I Say" into his medleys, and he was obsessed by Basie's famous 'one more time' finish on 1955's "April In Paris", and used it frequently (as he does here on "The Lady Is A Tramp"). Sammy would combine the two conceits into a single 45rpm recording for Reprise Records in 1961 called "One More Time (A Tribute to Ray Charles)".
Track listing
| | | | |
| --- | --- | --- | --- |
| Track | Record Date | Song | Time |
| A1 | 4/1/1960 | The Lady Is A Tramp | 4:23 |
| A2 | 4/1/1960 | I Gotta Right To Sing The Blues | 3:05 |
| A3 | 6/1/1960 | Get On The Right Track, Baby | 2:47 |
| A4 | 4/1/1960 | Do Nothin' Till You Hear From Me | 3:20 |
| A5 | 4/1/1960 | I Got A Woman | 4:32 |
| B1 | 7/1/1960 | There Is No Greater Love | 2:37 |
| B2 | 7/1/1960 | Gee Baby, Ain't I Good To You | 3:52 |
| B3 | 7/1/1960 | This Little Girl Of Mine | 2:01 |
| B4 | 6/1/1960 | Till Then | 3:23 |
| B5 | 6/1/1960 | Face To Face | 3:06 |
| B6 | 7/1/1960 | Mess Around | 2:46 |
TOP TWO TRACKS

The Lady Is A Tramp: Although it quickly became a signature tune for Frank Sinatra following its appearance on A Swingin' Affair in 1956, Sammy took the sheer joy he gets from swinging this Morty Stevens arrangement here and made the Rodgers and Hart classic a staple of his live act for the remainder of his career. Distinguishing his from Sinatra's versions, Sammy always sang the verse, and usually with some modified lyrics.



Mess Around: A great way to finish the album; Sy Oliver keeps things moving brilliantly. There's a sweet sax solo, a strong backbeat, and Sammy's having fun messing around with his Ray Charles impression.
DEEP CUTS

Gee Baby, Ain't I Good To You: This song was a Count Basie favourite, but had been put on the map by the Nat King Cole Trio back in 1944. Sy Oliver brings a welcome touch of the blues to proceedings, and it has a distinctive Basie sound. Sammy: "Now, baby, you know that I dig everything you do, and all, like that…"

Face To Face: Songwriter Bob Weisman worked with Sammy's friend Elvis Presley from 1956 to 1971. This little known number was presumably written specifically for Sammy, who sails his way through as if he hasn't a care in the world.
Release notes
I Gotta Right To Swing has been officially re-issued on a UK twofer CD in 1998.
It can currently be purchased digitally at both iTunes and Amazon (links above).
In addition, there are a plethora of unlicensed versions (no doubt stolen from the CD audio) available for streaming and download in Europe.
1960
I Gotta Right To Swing
Brunswick (UK) LAT 8352
Brunswick in the UK chose to use alternative cover art.
 1998
It's All Over But The Swingin' & I Gotta Right To Swing!
MCA Records MCLD19384
Official UK re-issue with remastered audio. A great CD twofer, with liner notes by the producer, Ken Barnes. Combined with Sammy's 1957 release It's All Over But The Swingin'.
2014
Seven Classic Albums
Real Gone Music 1899294633
European budget label issue of 7 Davis LPs. Unlicensed, likely vinyl transfers.