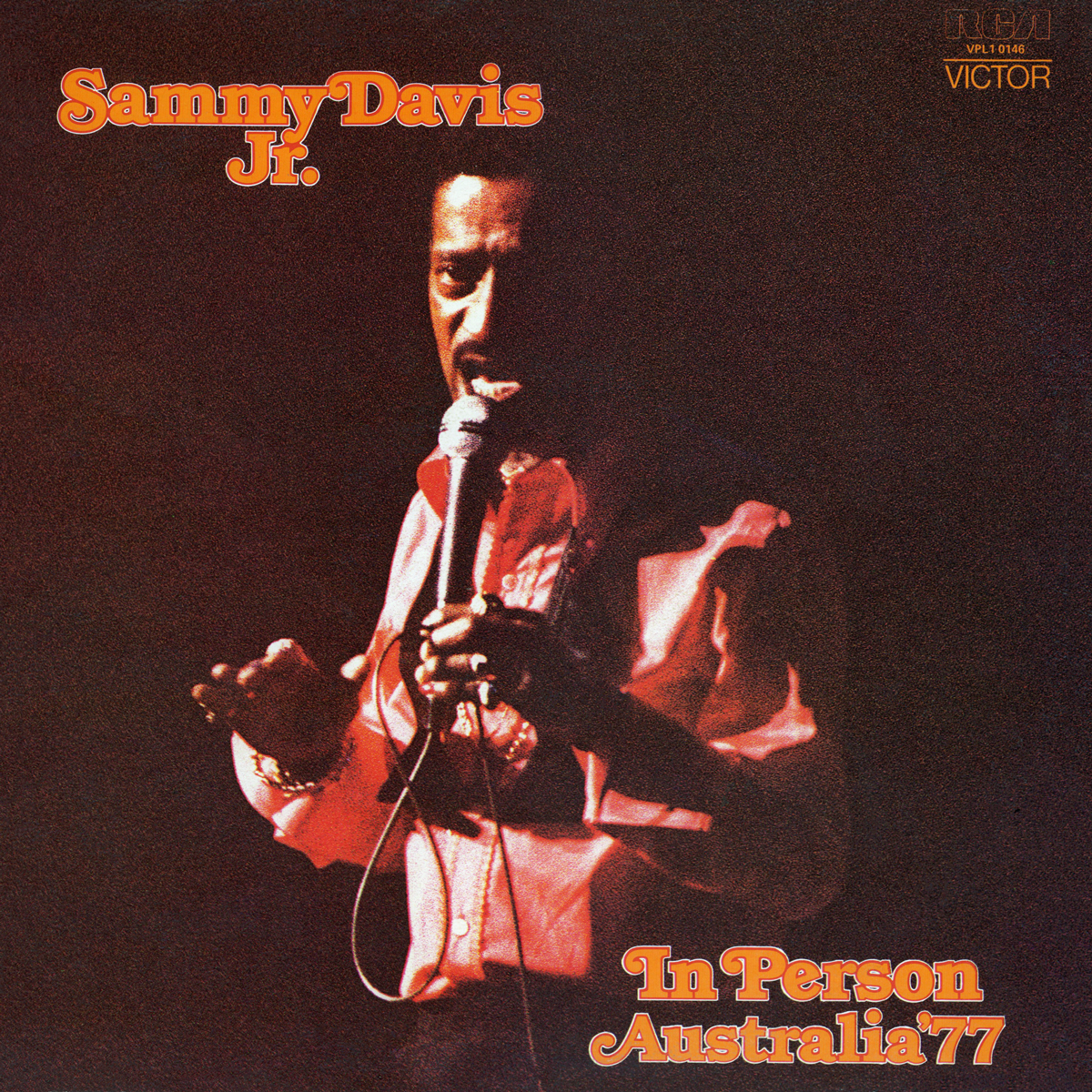 Details
The mid-1970s was a difficult period for Sammy Davis, Jr. both personally and professionally. The ever-changing musical tastes of the public, his insatiable drive to stay relevant in the world of showbiz, and his tendency to find consolation in a variety of extracurricular activities, all played a part in a relative career lull from an artistic point of view. There was one constant in Sammy's life, though, and that was a demanding live performance schedule that continued to take him across America and, in particular, across the world.
Sammy loved to travel. During the 1970s his star shone brightest in international markets where he was a significant drawcard. Between 1973 and 1977, Sammy made appearances in England, Japan, Germany, France, Canada and Mexico. In April 1977, he made a five city tour of Australia, appearing in Melbourne, Adelaide, Perth and Brisbane, along with two shows in Sydney at the Sydney Opera House on Saturday 9th April.
At this point, Sammy's recording contract with 20th Century had finished and he was producing his own material through a company named SYNI Corporation, set up in partnership with his manager Sy Marsh. Engineers from RCA Records set up at the Sydney Opera House to record Sammy's two shows, from which selections would be made to create Sammy's fifth live album, titled In Person: Australia '77. It would follow one for Decca in 1958 and three for Reprise. (While live albums were recorded in the early 1970s for both Motown and then MGM, they were never released).
Sammy obviously relished the environment of one of the world's greatest landmarks, writing in the LP's liner notes "It was a thrill for me. I've never worked in the kind of surroundings in Australia in my life. To work in that magnificent hall and that kind of sound system, with the musicians you will hear on record – it really was an experience." Sammy was accompanied by a collection of top local jazz musicians calling themselves the Australian All-Stars. Unlike Sammy's previous double-LP live recordings, there are no monologues beyond a brief introduction.
All of the tunes with which Sammy is most identified were included ("I've Gotta Be Me", "The Candy Man", "What Kind Of Fool Am I", "The Birth Of The Blues", "Mr. Bojangles") along with a few new inclusions into Sammy's live repertoire: two songs from the hit musical A Chorus Line ("I Can Do That" and "What I Did For Love"), and Barry Manilow's "I Write The Songs", which two months earlier had won the Grammy for Song of the Year. 
The two most notable tracks are "Rock-A-Bye Your Baby (With A Dixie Melody)" and a medley of songs paying tribute to Frank Sinatra. The first serves as Sammy's vehicle for his regular stable of impressions – Humphrey Bogart, Jimmy Cagney, Cary Grant, Marlon Brando, Dean Martin and Jerry Lewis. The second is an outstanding piece of entertainment – Sammy tells the story of his relationship with Frank through songs that Frank was singing at each stage of that relationship, from "I'll Never Smile Again" to "My Way".
Released in Australia in a gatefold LP sleeve, In Person: Australia '77 made the Australian charts for 3 weeks, peaking at #90. It was distributed by RCA Victor in Australia and Japan, and for other international markets such as Europe and South Africa it was re-titled In Person '77. 
Sammy claimed "I can tell the people who'll buy this album – this will be the best Sammy Davis, Jr. album you'll ever get, and I've made a few." This isn't even remotely close to being true, but Sammy can be forgiven his penchant for hyperbole because – despite being less sonorous than in his heyday – he is indeed in great voice throughout most of the album. Sammy evidently appreciated the experience of recording the album in Sydney because he repeated it two years later on another trip to Australia, producing a second live LP on RCA titled Hearin' Is Believin'.
Track listing
Track
Record Date
Song
Time
A1
 
Introduction
0:57
A2
9/4/1977
I've Gotta Be Me
2:16
A3
9/4/1977
Bye Bye Blackbird
3:09
A4
9/4/1977
Keep Your Eye On The Sparrow
(Theme From Baretta)
2:08
A5
9/4/1977
The Candy Man / What Kind Of Fool Am I
5:00
A6
9/4/1977
I Can Do That
3:03
A7
9/4/1977
What I Did For Love
3:31
A8
9/4/1977
Rock-A-Bye Your Baby (With A Dixie Melody)
6:08
B1
9/4/1977
I Write The Songs
3:22
B2
9/4/1977
I've Got You Under My Skin
3:14
B3
9/4/1977
The Birth Of The Blues
4:22
B4
9/4/1977
Sinatra Medley: You Will Be My Music / I'll Never Smile Again / Nancy (With The Laughing Face) / Witchcraft / In The Wee Small Hours Of The Morning / Come Fly With Me / My Way
8:40
B5
9/4/1977
The Lady Is A Tramp
3:21
B6
9/4/1977
Mr. Bojangles
3:50
TOP TWO TRACKS

Sinatra Medley: The near-nine-minute Frank Sinatra medley demonstrates Sammy's range as he deftly presents some of Sinatra's most identifiable songs using their familiar arrangements. The irony was that at this point in their relationship, Frank was barely speaking to Sammy, dismayed by his substance abuse issues. Was including this medley in his live act a message from Sammy? Perhaps. In January 1978, Sinatra gave Sammy an ultimatum about his lifestyle, one which Sammy heeded to great benefit. Sammy began the process of returning to the top of his game and becoming the respected elder statesman of entertainment that he was in the 1980s.



Mr. Bojangles: One of Sammy's best live recordings of "Mr. Bojangles", which by this stage had become a must-include item in his repertoire, and was usually his show-closing number. God bless the enthusiastic audience member who didn't recognise the song from its famous vamp like everyone else did, and who insisted on starting a second round of anticipatory applause once they heard the words "I knew a man, Bojangles…" and finally recognised what Sammy was about to sing!
DEEP CUTS

What I Did For Love: If this track is any indication, Sammy would have recorded an outstanding studio version of this song, but it never happened. Following the debut of A Chorus Line in 1975, he quickly adopted this standout from Marvin Hamlisch and Edward Kleban's musical as a regular in his act. Although a who's who of singers recorded the tune in the 70s (Bing Crosby, Jack Jones, Peggy Lee, Shirley Bassey, Johnny Mathis amongst others), this is the only time Sammy sang the song on vinyl.

Rock-A-Bye My Baby (With A Dixie Melody): This was one of Sammy's favourite go-to songs to feature his impressions. It is interesting to note that, as Sammy got older and the timbre of his voice altered, his impressions actually got better – even as his roster of targets became increasingly less relevant to his audience (Jimmy Cagney, for example, hadn't made a film in over 15 years by 1977). Sammy delivers a particularly good Bogey here, and channels 1970s-era Deano better than he ever did 1960s-era Deano. Perhaps Deano grew into Sammy's impression?
Release notes
This album has never been officially re-issued on CD, but the entire album is available for download and streaming via Amazon, under the title Live From Australia.
A significant portion of this live album was repackaged for release in the United States by Mike Curb Productions and released on the Warner/Curb label as A Live Performance Of His Greatest Hits.
Some tracks were released onto compilation CDs from Curb Records.
 1977
In Person '77
RCA PL-40591, PL-70691 (in 1985)
Issued under a different title and with different cover art in Europe and South Africa. Later re-issued in 1985.
 
 1988
The Candy Man And His Other Greatest Hits Live!
RCA / Curb Records BPCD-5103
Contains 9 of the album's 13 tracks. Excludes "I Can Do That", "What I Did For Love", "I've Got You Under My Skin" and the "Sinatra Medley".
 
 1990
Greatest Songs
Curb Records D2-77272
Contains 6 of the album's 13 tracks. Includes "I've Gotta Be Me", "Bye Bye Blackbird", "Rock-A-Bye Your Baby (With A Dixie Melody)", "The Birth Of The Blues", "The Lady Is A Tramp" and "Mr. Bojangles".
 1995
Greatest Hits, Live
Curb Records D2-77687
Contains "The Candy Man" / What Kind Of Fool Am I".
 2012
Live From Australia
Jerden Records (Amazon)
The full original album, available for download and streaming (omits the first 57 secs, which is Sammy's introduction). However, this is clearly a vinyl rip, and suffers from poor audio across some tracks.