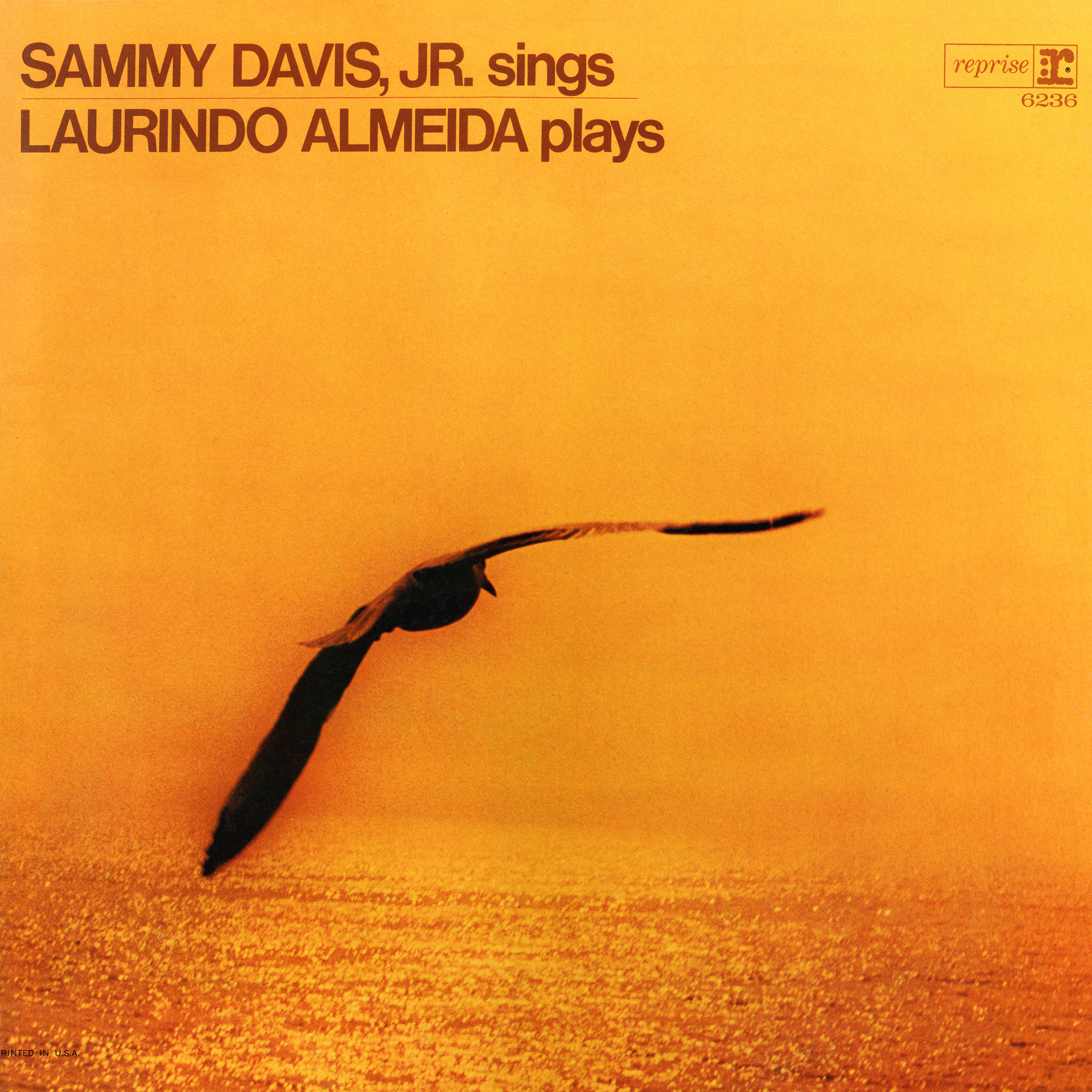 Details
Believe the modern-day critics when they highlight Sammy Davis, Jr. Sings, Laurindo Almeida Plays as the apogee of Sammy's recording career. Better Records: "One of the most emotionally rich and sublimely enjoyable collections of romantic ballads ever recorded." National Public Radio: "Anyone who's never thought much about Sammy Davis Jr. as a singer should start here."
Arriving in stores two months after the release of The Sounds Of '66 – Sammy's most turbo-charged, brashest, swingin'-est record yet – this LP took a stylistic turn 180 degrees in the opposite direction: no orchestra, no audience, no gimmicks. Just Sammy, a microphone, and the sole accompaniment of Laurindo Almeida on classical guitar. Despite being worlds apart in approach, the recording sessions for this album and The Sounds Of '66 were held just three days apart, during Sammy's engagement at The Sands in Las Vegas in June 1966.
This was not the first time Sammy had recorded an album of voice with lone guitar – the similarly wonderful Mood To Be Wooed with the electric guitar support of Mundell Lowe was recorded for Decca in 1957. Curiously, Sammy was the only one of his singer contemporaries at the time to record a full album with such accompaniment once, let alone twice; it would take another 7 years before Ella Fitzgerald would duet with Joe Pass on the first of their four albums together.
Brazilian Laurindo Almeida was a renowned classical and jazz guitarist, whose work with saxophonist Bud Shank in the mid-1950s had been instrumental in the creation of the bossa nova style of Latin jazz. Sammy, being a devotee of bossa nova, must have relished the chance to record with the doyen of the sound, which Almeida himself referred to as 'samba jazz'. This meeting between the two began a fruitful working relationship, as Almeida would occasionally join Sammy on the road (often at Harrah's in Lake Tahoe) performing together well into the mid-1970s.
Despite Sammy's original intent that the album be more in the bossa nova style, Almeida largely eschewed obvious Latin rhythms in accompaniment and the album is all the richer for it – his sensitive but deliberate approach provides the melodies with a wistful quality perfect for the occasion. Billboard outlined in its December 1966 review: "The masterful guitar work of Laurindo Almeida brings out the best in a restrained Sammy Davis." True enough; Sammy is left space to use his skills as an actor and stage performer to render clearly the emotion appropriate to each number – providing the listener with a masterclass in song interpretation.
The song choice is exemplary, with a mix of melancholy and introspective ballads suitable for the intimate setting. Sammy's usual focus on Broadway is present as ever, including numbers from Oliver!, Carnival in Flanders, One Touch of Venus, and The Most Happy Fella. "Joey, Joey, Joey" from the latter show transcends its stage context and becomes a haunting paean to transience. Another notable inclusion is "Two Different Worlds", which had been a #11 hit for baritone balladeer Don Rondo in 1956 and benefits from the totally different ambience Sammy and Almeida provide.
Despite the fact it didn't make the Billboard charts, the LP was a hit with critics at the time, who celebrated its artistry. Don Lass wrote in his syndicated column Record Previews in December 1966: "The meeting of guitar and voice requires a high degree of musicianship, intelligence, and mutual understanding. That challenge is met here brilliantly."
The Miami Herald made this assessment in January 1967: "In his latest Reprise album, Sammy Davis, Jr. proves that he does not need all the flim flam diddywah. No funny-business, no finger-snapping, this is Sam sitting down and singing with nobody but a guitarist. The riches become almost embarrassing … Sammy may make a better record than this one; but he has never done it before."
Stan Cornyn summed things up nicely in the closing to his liner notes for the original album: "Sammy Davis. Jr. sings. Laurindo Almeida plays. Everybody else: give up."
TOP TWO TRACKS

Here's That Rainy Day: The album's lugubrious mood is set from the very outset, from Laurindo Almeida's raindrop-like opening notes to Sammy's forlorn reading of Jimmy Van Heusen and Johnny Burke's classic. From this high point, the album's quality doesn't deviate. There are 10 "Top Tracks" on this album!



Where Is Love?: A highlight from Lionel Bart's Oliver!, in which the imprisoned orphan yearns for someone to love him. Sammy perfectly conveys the heartbreak of loneliness and Almeida's accompaniment is faultlessly minimal. On "Where is she, whom I close my eyes to see?", you can almost hear Sammy's eyes close… An outstanding interpretation of a song that was written to tug at the heartstrings.
DEEP CUTS

I'm Always Chasing Rainbows: A throwback to Sammy's vaudeville days, this 1917 musical comedy song (with music adapted from a melody by Chopin) was later sung by Judy Garland in the 1941 film Ziegfeld Girl. It is presented here as the chorus only, without either of its verses. Sammy somehow combines the weariness of as yet unfulfilled dreams with just a hint of rueful optimism.

The Shadow of Your Smile: Tom Moon of NPR beautifully describes this recording in his article 'A Song-and-Dance Man, Reconsidered': "Sensitivity to the accompaniment helps make the Davis version of "The Shadow of Your Smile" one for the ages: It begins in a sullen, tempo-less reverie, then snaps into a disciplined bossa nova beat for the second verse. Then, as the singer and the guitarist amble along, they shift back and forth between the tempo and the fantasy, echoing and expanding upon the nostalgic yearning of the lyric in a zillion little ways."
Release notes
This album has had official reissue on CD.
Unusually, it is not available for official download and or streaming.
An additional recording, "Misty", was made at these recording sessions, and remained unreleased until 1976 when it was included on a special 2LP set for the Sessions label titled Sammy – Special Collector's Edition. It was then included on the two DCC CD releases of this album as a bonus track.
In addition, there are live recordings of "Here's That Rainy Day" and "Speak Low" from around 1966 when Sammy and Laurindo Almeida performed at Lake Tahoe. These appear on a little-know CD release from Madacy titled Sammy Davis, Jr. – Essential. The sound quality is poor, but they are the only known recordings of the two paired live.
 1991
Sammy Davis, Jr. Sings, Laurindo Almeida Plays
DCC Jazz DZS-055
(re-released in 1997 as DJZ-627)
Official reissue. Excellent remastering from Steve Hoffman. Includes bonus track "Misty".
1994
Sammy Davis, Jr. Sings, Laurindo Almeida Plays
Actual 505016.2
German release licensed to use the DCC remaster. Includes bonus track "Misty".
 
 2004
Sammy Davis, Jr. Sings, Laurindo Almeida Plays
Collectors' Choice Music CCM-494
Official reissue. Excellent liner notes from James Ritz. Unfortunately, the cover design replaces the sans-serif all-caps font used for the original title with what appears to be the screen font Chicago, and results in a very cheap look.
 2018
Sammy Davis, Jr. Sings, Laurindo Almeida Plays
Oldays Records ODR-6556
Japanese mini-LP on CD. Unofficial release due to the expiry of copyright in Japan. Different font again used for the album's title.