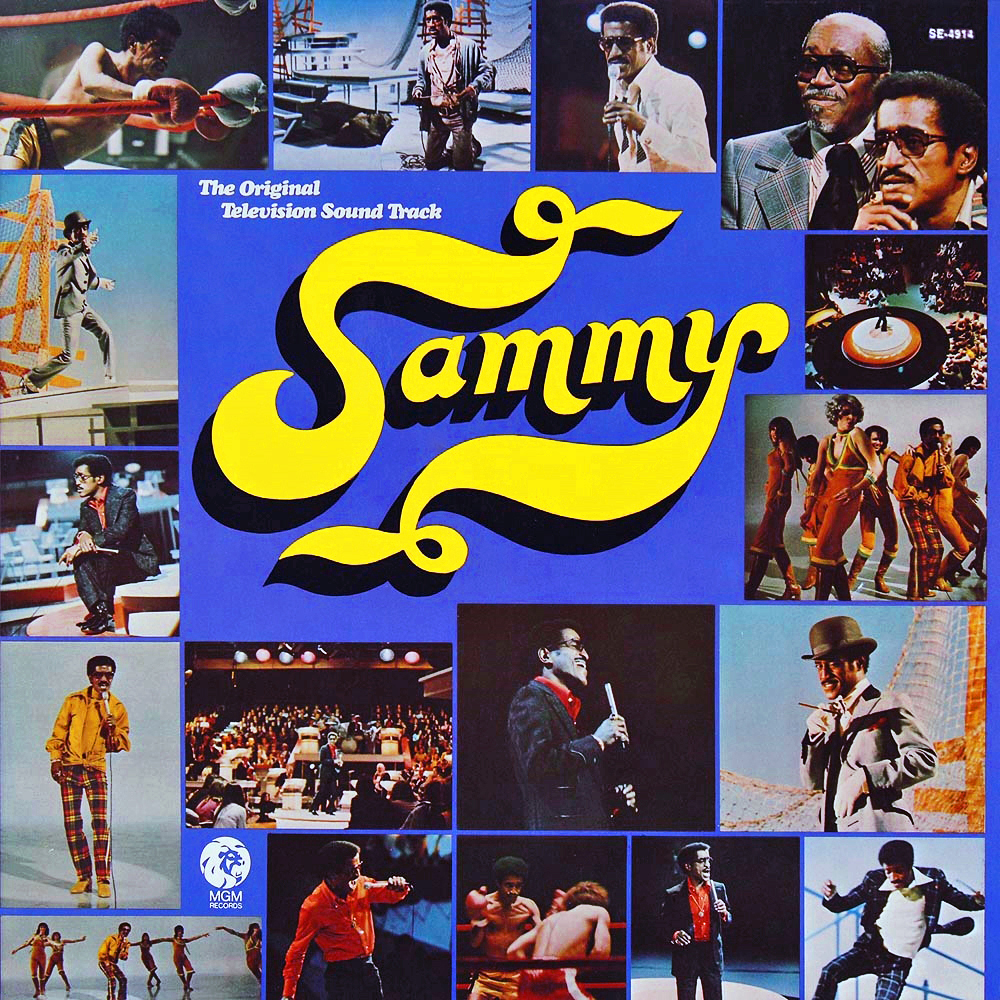 Details
In April 1973, David W. Tebet, the Vice President for Talent for NBC announced a splashy long-term contract between the network and Sammy Davis, Jr. The deal gave NBC exclusive use of Sammy's talents on television in the USA. "This is one of the most important individual talent agreements ever entered into by NBC and we are pleased to acquire Sammy's exclusive television services," said Tebet.
NBC's first use of Sammy would be to launch a new variety series, NBC Follies that September, following a successful pilot in February. But they also had in mind a big one-hour TV special. Titled Sammy, it would be billed as celebrating Sammy's 45th year in the business. Sammy's label, MGM Records, would release the soundtrack on LP. Sammy got to work. A portion of the special would be filmed with a live audience in June, and a second portion filmed on sound stages in September. Both would be recorded in London.
The special was made in England because that was the base of operations the world's best producer-director partnership in the field of televised musical specials – Gary Smith and Dwight Hemion. They had helmed specials for Barbra Streisand and Frank Sinatra, and been in charge of a Burt Bacharach special the previous year in which Sammy and Anthony Newley had performed an amazing 15-minute long medley of songs – Sammy knew he wanted the best in the business.
This, however, didn't stop Sammy fighting their instincts. Sammy said "I fought Gary and Dwight all the way down the line because this was my life we were doing, I knew how we should do it – but they were right and I was wrong 1,000 per cent of the time!" The retrospective began with footage of a 7 year-old Sammy from Rufus Jones For President, singing "I'll Be Glad You're Dead, You Rascal You" and included a charming conversation with his father, Sammy Davis, Sr., reminiscing with Sammy about Sammy's childhood and their early career together.
In the end, only two songs were utilised from the recordings made in front of a live audience at Grosvenor House in London: "For Once In My Life" and "The Birth of the Blues". The remainder of the special was made up of set pieces filmed at ATV's television studios: an outstanding rendition of "Mr. Bojangles", a gaudy dance number, "Get It On", which featured a bevy of bopping beauties and Sammy rocking some outrageous plaid pants, as well as a tasteful and touching take on "Over The Rainbow" and a medley of songs from Porgy And Bess.
The medley is the special's high point. Despite being famous in the film for the role of Sportin' Life, Sammy drops to his knees and begins the medley as Porgy, singing "I Got Plenty O' Nuttin" and "Bess, You Is My Woman Now". He sings "It Ain't Necessarily So" as Sportin' Life before a bit of split screen trickery sees Sammy join himself for a duet, cleverly combining "There's A Boat Dat's Leaving' Soon For New York" with "Oh Lawd, I'm On My Way". For 1973, it's a triumph of timing, staging and technology. Sammy explained: "That was Dwight and Gary's idea, and I fought them on it until they said, 'Let's try it once and see how it looks' – and they were so right, and I was so wrong."
One particularly noteworthy sequence involved a dramatic re-staging of the fight scene finale from Sammy's 1966 Broadway production "Golden Boy", in which Sammy's character, boxer Joe Wellington, defeats the champ, José López. Dancer Jaime Rogers, who had played Loco on film in 1961's West Side Story and had since become a successful choreographer, reprised his role as López, seven years after Sammy and he last did battle on a Broadway stage. Although Sammy was now more flyweight than welterweight, you can see how the fight must have captivated New York audiences, combining as it did elements of dance and music with a surprising degree of boxing authenticity.
The special ends with a song that was written specifically for Sammy by Paul Anka. Having written "My Way" for Frank Sinatra, Sammy had teased his friend about writing a song for him too. With Sammy being the ultimate spokesperson for the generic song of self-affirmation, it's no surprise that "I'm Not Anyone" draws deeply from that well of inspiration. Curiously, Sammy recorded it during the Grosvenor House session, but with no audience in attendance – the eerie backdrop makes for an effective finish to the special.
Airing in the USA on 16th November, Sammy was hugely successful – especially by comparison to NBC Follies (its cancellation had already been announced). The Chicago Tribune called Sammy "one of the brightest, most exciting hours of performance that you'll see on prime-time television this season". Reviewer Cecil Smith wrote in The Los Angeles Times "It's a retrospective of the career of this astonishing little man, and I doubt seriously that anything that occupies the tube this season will provide the breadth and depth of talent on display in this hour. It's a virtuoso performance."
MGM readied the soundtrack release for early December (and Christmas shopping). The closing songs were re-ordered so that the album would finish with "The Birth Of The Blues", instead of "I'm Not Anyone", but other than this all the songs and narration provided throughout the special were faithfully included. MGM also provided a special one-sided souvenir promo 45 of little 7 year-old Sammy's performance of "I'll Be Glad When You're Dead, You Rascal You" to the press.
Track listing
| | | | |
| --- | --- | --- | --- |
| Track | Record Date | Song | Time |
| A1 | 1/9/1933 | I'll Be Glad When You're Dead (You Rascal You) | 1:10 |
| A2 | 9/9/1973 | This Dream | 2:02 |
| A3 |   | Narration – Hoofers | 3:20 |
| A4 | 9/9/1973 | Mr. Bojangles | 5:42 |
| A5 |   | Narration – Change | 1:00 |
| A6 | 9/9/1973 | Get It On | 3:13 |
| A7 | 9/9/1973 | Over The Rainbow | 4:22 |
| B1 | 9/9/1973 | I Got Plenty O' Nuttin / It Ain't Necessarily So / Bess, You Is My Woman Now / There's A Boat Dat's Leavin' Soon For New York | 7:57 |
| B2 |   | Narration – Will Mastin Trio Minus Two | 0:22 |
| B3 | 20/6/1973 | For Once In My Life | 2:50 |
| B4 | 20/6/1973 | I'm Not Anyone | 4:00 |
| B5 |   | Narration – Toast | 1:35 |
| B6 | 20/6/1973 | The Birth Of The Blues | 3:12 |
TOP TWO TRACKS

Porgy And Bess Medley: An outstanding piece of showmanship. Without the visual of Sammy singing a duet with himself, however, the orchestration of combining "There's A Boat That's Leaving Soon For New York" with "Oh Lawd, I'm On My Way" would have definitely confused LP listeners, so MGM engineers Bill Nuttall and Ralph Valentin wisely chose to leave the latter song off entirely. Hence there is no duet on the LP. The medley provides a fantastic musical moment, regardless.



Over The Rainbow: Included, no doubt, in tribute to Sammy's friend Judy Garland, who had passed away four years prior. It was placed directly after "Get It On" – to say the piece comes as a change of pace is putting it mildly, but Sammy somehow makes it work. Sammy sings the verse, which Garland only did once in her whole career, and the orchestration by Jack Parnell is effectively embellished without being suffocating.
DEEP CUTS

Get It On: A cover of the jazz-rock band Chase's 1971 number from their eponymous debut album, written by the band's leader, trumpeter Bill Chase and its lead vocalist Terry Richards. Sammy's version is psychedelic in every way – from the circular stepped set, gyrating green and gold go-go girls (and guys), blaring brass and soul shrieks that would have made Screamin' Jay Hawkins blush.

I'm Not Anyone: Written for Sammy by singer Paul Anka, Sammy recorded the song early in 1973 and MGM released it on the B-side of Sammy's cover of the country hit "(I'd Be) A Legend In My Time". It made it to #29 on the Billboard Adult Contemporary chart. Anka was particularly proud of the song, and of Sammy choosing it to close his TV special. To this day, Anka regularly sings the song in concerts, duetting with Sammy using footage from Sammy on a big screen. Anka told Billboard in 2007: "Because of technology I can sing it onstage and on record with Sammy Davis, Jr. who was my friend and a great inspiration. I learned so much about how to perform from him, and it's just a great moment when I duet with him on stage."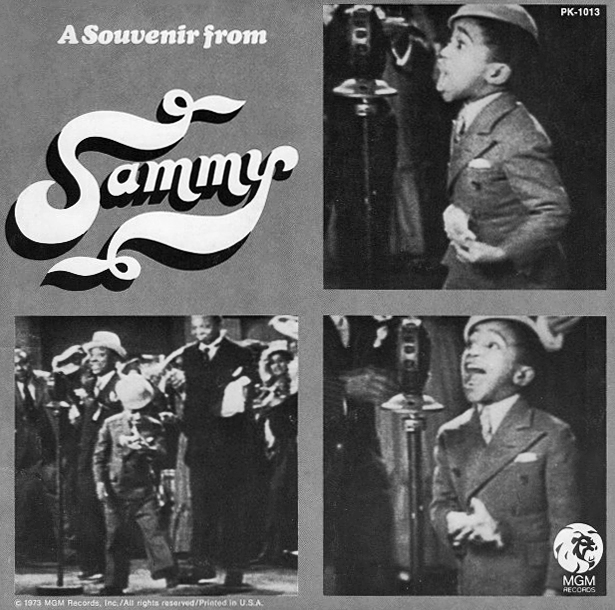 Release notes
This album has never been officially re-issued on CD.
Some tracks were released onto compilation CDs in the early 2000s, and those are currently available for digital download via these compilations.
Of the eight major songs on the LP, three (plus the various moments of narration) are believed to have never made it onto CD, nor are downloadable: "This Dream", "Mr. Bojangles" and "I'm Not Anyone". This LP is their only appearance to date.
 2002
20th Century Masters: The Millennium Collection
Polydor 440 065 083-2
Official compilation CD using the original masters.
Contains "Porgy And Bess Medley", "For Once In My Life" and "The Birth Of The Blues".
 2002
Lounge Legends: Sammy Davis, Jr.
Polydor/Universal 5-89791-2
Official compilation CD using the original masters.
Contains "Get It On".
 1999
Mr. Bojangles
PolyGram Special Markets 314 520 542-2
Official compilation CD using the original masters.
Contains "Over The Rainbow" and "The Birth Of The Blues".