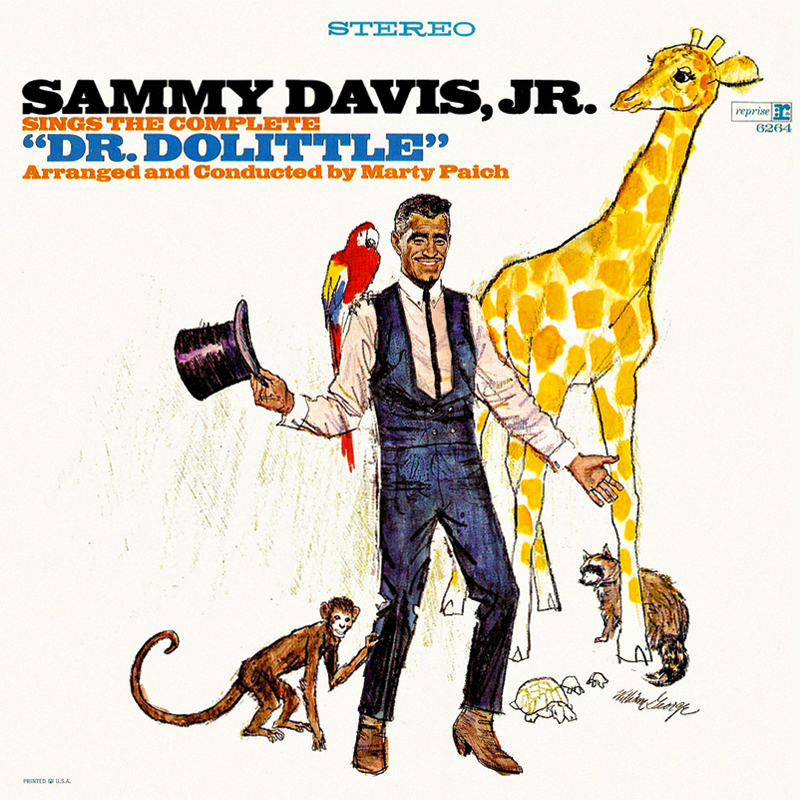 Details
As the foremost evangelist of the Bricusse-Newley songbook, it might be no surprise to see Sammy Davis, Jr. recording an album of songs from a movie with script, lyrics and music written by Leslie Bricusse and starring Anthony Newley in a lead role. It might be surprising to discover, though, just how connected Sammy was to 1967's Dr. Dolittle.
Dr. Dolittle has become infamous as a train wreck of a film – and one which almost bankrupted 20th Century Fox. Buoyed by their success with The Sound Of Music, Fox intended for a musical of epic proportions to follow it, and settled on an adaption of Hugh Lofting's beloved series of 14 novels about a veterinarian who can speak to animals. Rex Harrison, who had just won an Academy Award for Best Actor for My Fair Lady, was signed as the titular character Dr. John Dolittle.
Fox turned to Leslie Bricusse to write the script, lyrics and music. By July 1965, Bricusse had written an extensive treatment, plus four songs. Around the same time, whether through his connection with Bricusse or otherwise, Sammy Davis, Jr. signed on to play the key role of Prince Bumpo, an Oxford-educated African prince from the kingdom of Jolliginki. Once Bricusse completed the score, he played it for Sammy, who committed to recording it.
There was only one stumbling block: Rex Harrison. When he heard Sammy had been cast, Harrison insisted he be fired. "I don't want to work with an entertainer," he told the producers. "I want an actor. A real actor, not a song-and-dance man." Amongst many other unreasonable demands, Harrison also (unsuccessfully) opposed the casting of Anthony Newley, saying "I think once we get anybody who is musical comedy in the film, it is dead." The producers suspected this was code for anybody whose singing and dancing might highlight Harrison's own deficiencies on those fronts.
Producer Arthur P. Jacobs came to a performance of Golden Boy in New York to deliver the bad news. Sammy considered going public and even personally suing Harrison, but ultimately decided against it – most likely out of loyalty to Bricusse. Presumably this loyalty also led to him keeping his word to Bricusse that he would record the full score. Sure enough, in the summer of 1967, while Sammy was in the U.K. shooting the film Salt & Pepper, he spent two days at Olympic Studios in Barnes, London, laying down 12 tracks.
The sessions were arranged and conducted by Sammy's long-term collaborator, Marty Paich. It would be the last LP on which the two would collaborate. With the exception of "I've Never Seen Anything Like It" (for which Sammy puts on his English accent and chews the scenery), Paich largely extracts each song from their in-movie contexts, providing lush accompaniment for several beautiful ballads, and turning "At The Crossroads" and "After Today" into up-tempo barnburners.
When Dr. Dolittle was played for test audiences in September 1967, the reaction was so bad that it was hastily shortened (twice!) before its release in December. Two casualties were the excellent musical numbers "Something In Your Smile" and "Where Are The Words", neither of which made it into the final film. By that stage, Sammy's album was already in stores, as too was the film's official soundtrack which also included both songs.
20th Century Fox shamelessly schmoozed enough Academy voters that Dr. Dolittle was nominated (in most cases undeservedly) for several Academy Awards. Come the big night, its only win was for Leslie Bricusse in the category of Best Original Song, for "Talk To The Animals". With Bricusse unable to be there, Sammy walked onto stage to collect the Oscar from Barbra Streisand on behalf of his close friend.
And so, ironically, Sammy was associated with Dr. Dolittle's sole achievement despite being unceremoniously fired from the film itself – and karmic justice saw the movie's abysmal box office performance (the studio lost about $11 million) finish the cantankerous Rex Harrison's career as a leading man on film.
TOP TWO TRACKS

Talk to The Animals: This song became somewhat associated with Sammy – and not just because Sammy collected the Oscar when it won Best Original Song in 1968. Sammy sang it on television on The Hollywood Palace in September 1967, and occasionally incorporated it into various medleys in his live act for much of the rest of his career. Originally written for Rex Harrison's 'speak-singing' style, Marty Paich gives the number a commercial beat and extra punch that it certainly didn't have in the original film.



When I Look In Your Eyes: Easily the greatest song in the history of cinema ever sung to … a seal. Dolittle sings this beautiful number as a loving goodbye to Sophie the seal before returning her to the sea to be reunited with her husband. Paich recasts the piece as a haunting ballad and Sammy performs it with the pitch perfect degree of pathos.
DEEP CUTS

Beautiful Things​: Sung by Anthony Newley's character Matthew Mugg as he first expresses his feelings to Emma Fairfax (Samantha Eggar). Paich chooses to open and close with a harpsichord, and provides a woodwind-heavy arrangement highlighting of one of Bricusse's most affecting melodies.

Fabulous Places: In 1988, Sammy included this on a CD collection he personally curated of his 'Greatest Hits'. While not a 'hit' by any stretch (it wasn't even released as a single), it served as his answer to 'Come Fly With Me' and 'It's Nice To Go Trav'ling'. Sammy seems to be having fun – after all, more than most of his contemporaries, he certainly loved to travel the globe.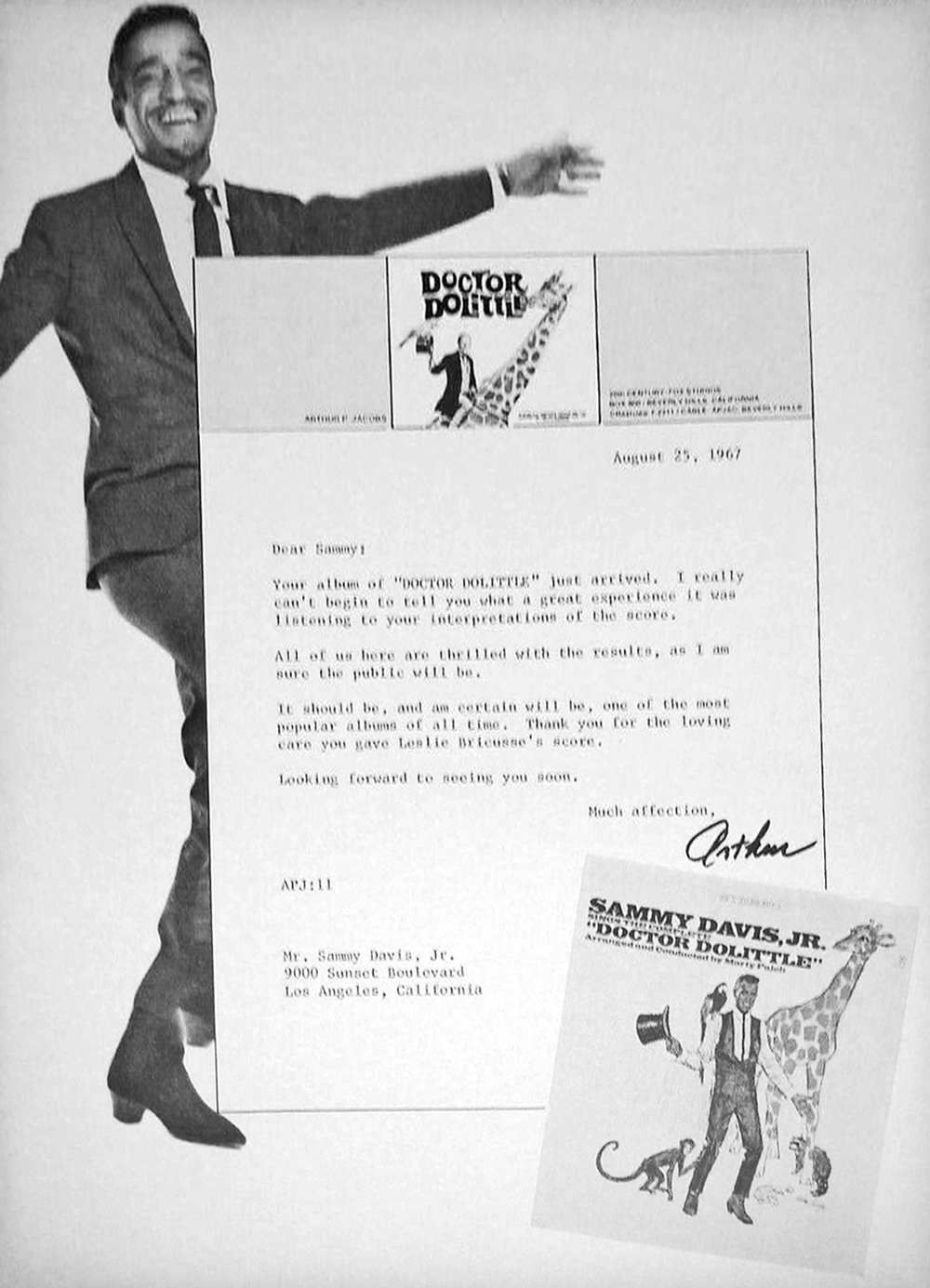 Release notes
This album received an official reissue by Collector's Choice in the US.
It is also readily available for download and on streaming platforms.
 2004
Sammy Davis, Jr. Sings The Complete "Dr. Dolittle"
Collector's Choice Music CCM-495
Official reissue. Excellent liner notes from James Ritz.
 2009
Sammy Davis, Jr. Sings The Complete "Dr. Dolittle"
Rhino/Warner Bros.
Available for download and streaming.