Stop The World – I Want To Get Off

Opening Date: 3 August, 1978 / Closing Date: 27 August, 1978
Performances: 30 performances
Venue: New York State Theatre, New York
Producer: Hillard Elkins
Director: Mel Shapiro
Cast: Sammy Davis, Jr., Marian Mercer, Shelly Burch, Wendy Edmead, Charles Willis, Jr.
Book, Music and Lyrics: Leslie Bricusse and Anthony Newley
Arranger: Ian Frazer Conductor: George Rhodes
Tryouts: Fox Theater, San Diego – 19 to 27 May, 1978
Shubert Theater, Los Angeles – 30 May to 17 June, 1978
Arie Crown Theater, Chicago – 23 June to 29 July, 1978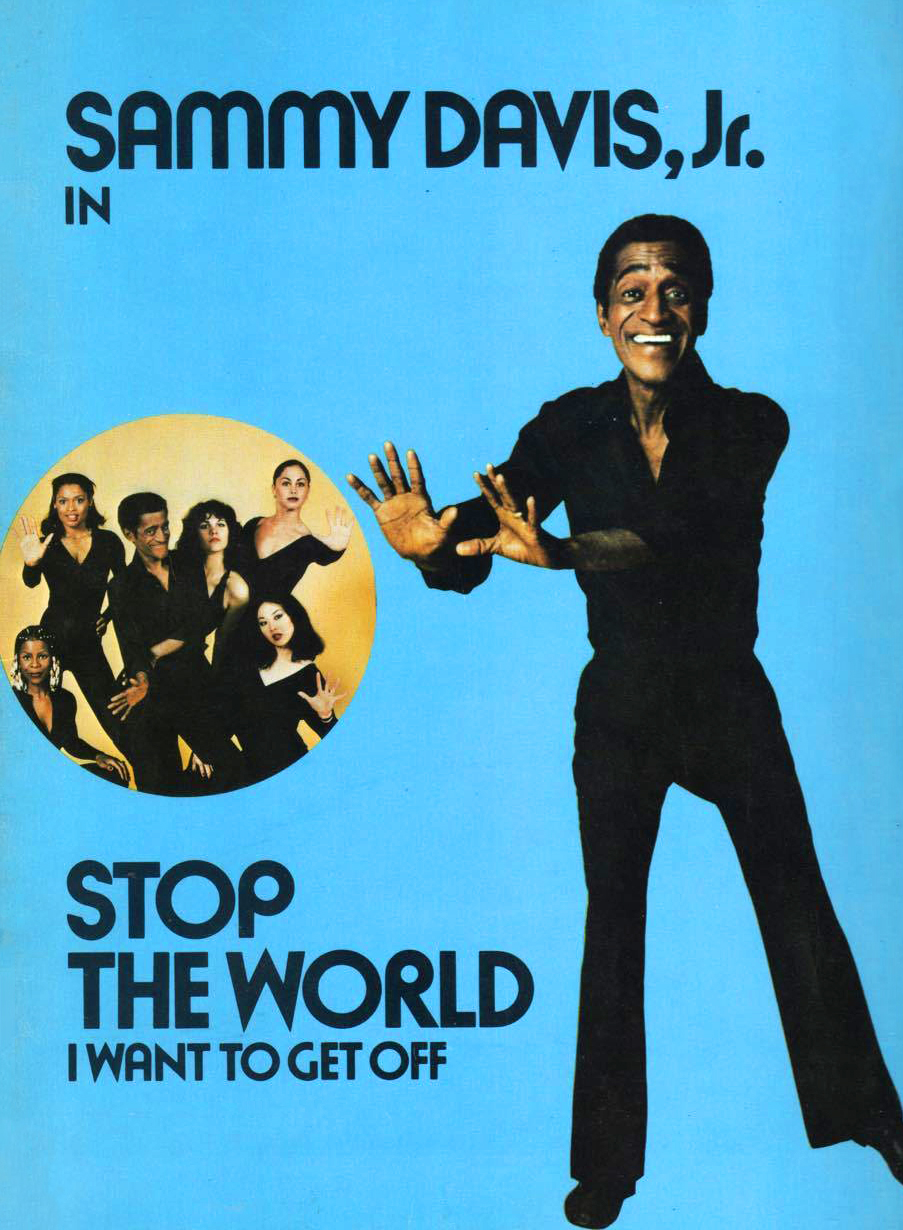 Stop The World – I Want To Get Off
Opening Date: 3 August, 1978 / Closing Date: 27 August, 1978
Performances: 30 performances
Venue: New York State Theatre, New York
Producer: Hillard Elkins
Director: Mel Shapiro
Cast: Sammy Davis, Jr., Marian Mercer, Shelly Burch, Wendy Edmead, Charles Willis, Jr.
Book, Music and Lyrics: Leslie Bricusse and Anthony Newley
Arranger: Ian Frazer Conductor: George Rhodes
Tryouts: Fox Theater, San Diego – 19 to 27 May, 1978
Shubert Theater, Los Angeles – 30 May to 17 June, 1978
Arie Crown Theater, Chicago – 23 June to 29 July, 1978
Details
In January of 1978, Sammy Davis, Jr. had just turned 52, and was at a crossroads – both creatively and personally. His close friend Frank Sinatra, disgusted by Sammy's drug use, had not spoken to him beyond pleasantries for several years. In a meeting between the two at Caesar's Palace (engineered by Davis and Sinatra's wives) Sammy undertook to quit. Importantly, an upcoming project would require his sobriety: a Broadway revival of Stop The World – I Want To Get Off.
When in London in 1960, Sammy Davis, Jr. had forged a firm friendship with song writing duo Anthony Newley and Leslie Bricusse, a friendship which would bear fruit his entire career (Sammy recorded around 40 Bricusse titles). Sammy was captivated by their musical Stop The World – I Want To Get Off when it opened in London, in July 1961, and he recorded two of the main songs from the production for Reprise the same month. He had been especially impressed with Newley both directing the production and starring in the main role.
Sammy's Golden Boy Producer Hillard Elkins had no doubt long encouraged Sammy to return to the stage, but Sammy was now in the right mental space and physical shape to attack it. Given Sammy's long-time love of the score, Stop The World was the perfect vehicle for Elkins to achieve his goal. Sammy told the Chicago Tribune: "When Stop The World opened on Broadway I was prepping for Golden Boy. I saw it and said, 'Jeez, I got to do that show one day' … I finally got to the point where I said 'at the age of 52, if I don't do it within the next couple of years, I ain't never going to do it.'"
Preparation
Rehearsals began on 24th April, and the show would open on 19th May in San Diego, then move to Los Angeles and Chicago before its premiere on Broadway on 3rd August. In preparation Sammy locked himself away, telling the New York Times: "What I did to prepare for this show was I isolated myself … I moved out of the house – my wife just loved that – and I rented an apartment and stayed there every night, I started preparing my throat. No problems, no cop‐outs. When we went into rehearsals, I sang out."
Being a stylised allegory of the human condition, Stop The World – I Want To Get Off is an unusual musical. It tells the tale of Littlechap, who seemingly has great success in each of life's various stages (work, marriage, children, fame, power), but who is far from happy, and often wishes he could stop the world and get off. Littlechap has a wife, Evie, whom he loves, but he cannot admit it, so he searches for extramarital happiness – the girls he chooses, however, are all look-alikes of his wife. Newley's 1961 production made heavy use of Newley's talent for mime, and saw Littlechap wearing clown make-up within a circus tent set.
A curiosity even in 1961, an unmodified revival would have been be incomprehensible to the American audience of 1978. So significant changes were made to suit the times, and to suit Sammy. Under the direction of Mel Shapiro, the mime and clown motif were largely dropped, and the backdrop became a vibrant multicolour modern-art montage, with a giant papier-mâché hand holding a cigar off to the side representing Littlechap's boss and father-in-law. Bricusse and Newley re-wrote the book to reference race-conscious America rather than class-conscious Britain, and provided Sammy with a custom-written new song to close Act I, "Life Is A Woman".
Production
Tony Award-winning actress Marian Mercer was cast as Evie (named for Leslie Bricusse's wife); she also played the three further identical women whom Littlechap falls for through the show. Sammy enjoyed working with director Shapiro in particular: "During rehearsal we concentrated on nuance. It was easier for Marian than myself, because she's an accomplished actress … Mel drummed into me that it isn't absolutely necessary to be downfront. He took the Vegas edge off."
Several songs, including "What Kind Of Fool Am I?", which had been staples of Sammy's live act for over 15 years, were now being performed in context, and so required new interpretation. Sammy told Jay Carr: "I was in love with this show from the beginning. All three songs were hits for me in America before the show opened here. But the way I do them in the show is completely different. Now I sing those songs in character. I have no delusions of grandeur, I know I'm still a variety performer, but I want to de-Sammy Davis, Jr.-ize me this time. Physically, the challenge is not to do any of the things, the Sammy-Davisisms."
Reviews from San Diego were positive, and the Los Angeles run sold out. So hot was the box office in Chicago, that the run there was extended from four to six weeks (in preference to holding an additional run in Toronto which did not eventuate). A cast album was recorded for Curb Records. Sammy was taking his work seriously, and was quoted in the Detroit Free Press as saying: "The plan I laid down for myself with this show is working. Which means there ain't no parties, there ain't no nothin', man. When I come to Chicago, there ain't going to be a lot of 'Sammy was at this place, and he was at that disco.' People won't be reading that, because that is not my life-style anymore."
While in Los Angeles in June, there was trouble brewing when Sammy's in-house conductor George Rhodes was fired in favour of Newley and Bricusse's favoured conductor Ian Frazer (who had arranged all the music for the production). Rhodes spoke to Jet Magazine: "The producer and director had only agreed to let me do the conducting because they felt they could please Sammy, and that I wouldn't make the grade. But I fooled the hell out of them. I took notes when the other conductor they had did his thing, and without any preparation, when my turn came, I was ready." Sammy insisted he would not perform without Rhodes at the helm, and the situation was swiftly resolved.
Critical Reaction
Unlike the reviews from San Diego, LA and Chicago, which had generally praised the production, the New York reviews by and large approved of both Sammy and Mercer's performances, but were scathing about the modified musical itself.
On the positive front, Larry Kart in the Chicago Tribune highlighted Sammy's dancing: "On stage [Davis] seems totally relaxed and in character, which is quite a trick for a performer who has made his name as a hard-breathing nightclub star … though today he prefers to dance as little as possible, Stop the World does require some dancing from Sammy, however, and those moments are among the high points of the show. In one scene, suddenly synchronizing his movements with the chorus dancing behind him, he proves that he is one of the remaining heirs to the Bill Robinson tradition."
However, Mel Gussow's review in the New York Times summed up the prevailing sentiment: "The star was operating at the very top of his form. He is a large talent — as a singer, dancer, actor and mimic — who can light up any stage. Mr. Davis has been away too long from Broadway musical theater. Stop the World, despite the star and the renovation, remains a pretentious, sentimental act of self‐piety … Littlechap is a male chauvinist prig … There are no subtleties this play, and the political and social satire is heavyhanded … In the end, the evening belongs to Mr. Davis. We welcome him back at the same time that we regret his choice of vehicle."
With the overall reaction being negative (Douglas Watt in the Daily News: "an intolerably cute show, as well as an almost utterly senseless and lifeless one"), Stop The World wasn't extended past its intended three week run on Broadway. A final additional performance was scheduled in September at the Terrace Theatre in Long Beach, at which the production was filmed for future release as a movie, which was titled Sammy Stops The World.
MUSICAL NUMBERS
ACT I
1. I Wanna Be Rich – Littlechap
2. Typically English – Evie
3. Lumbered – Littlechap
4. Welcome To Sludgeville – Chorus
5. Gonna Build A Mountain – Littlechap
6. Glorius Russian – Anya
7. Meilinki Meilchick – Littlechap, Anya
8. Family Fugue – Littlechap, Evie, Susan, Jane
9. Typische Deutsche – Ilse
10. Life Is A Woman – Littlechap
ACT 2
11. All-American – Lorene
12. Once In A Lifetime – Littlechap
13. Mumbo Jumbo – Littlechap
14. Welcome To Sunvale – Chorus
15. Someone Nice Like You – Littlechap, Evie
16. What Kind Of Fool Am I? – Littlechap