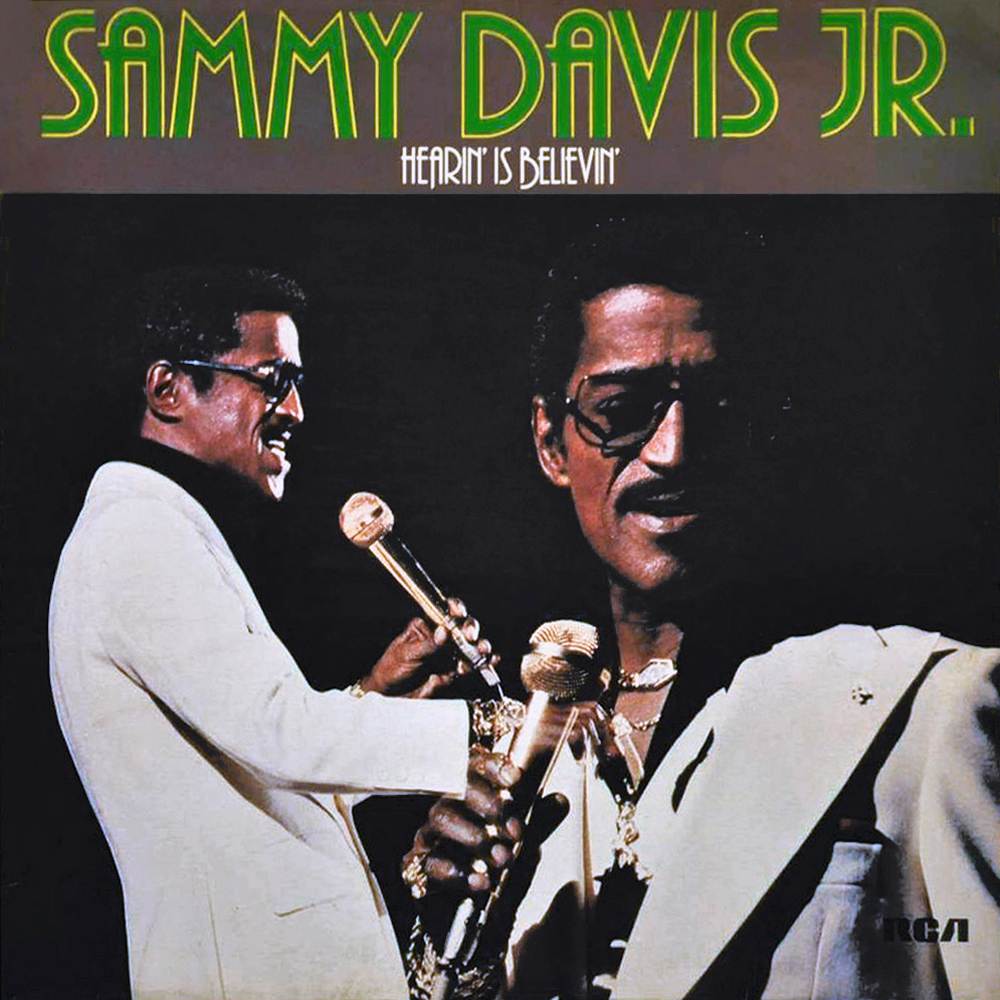 Hearin' Is Believin'

Artist: Sammy Davis, Jr.
Format: LP
Label: RCA Victor
Cat. Num.: VPL1-0218 (Australia), PL-40801 (Europe)
Rel. Date: December, 1979
SDJr.info Rating:
Details
One of Sammy Davis, Jr.'s favourite places to travel to was Australia. He visited twice in 1959, returned in 1963, then visited again for tours in 1970, 1977 and 1979. In 1978 he attended the 20th Annual Logie Awards (the Australian equivalent of the Emmys) and presented the Gold Logie for the Most Popular Personality on Australian Television to the host of Blankety Blanks, Graham Kennedy. Throughout the 1980s Sammy was a regular visitor, and assisted with the long-running Channel Seven Perth Telethon in both 1982 and 1983.
In 1977 Sammy had recorded a live album from his performances at the Sydney Opera House (released on RCA internationally as In Person: Australia '77 and on Warner/Curb in the United States as A Live Performance Of His Greatest Hits). Sammy evidently appreciated the experience of recording the album in Sydney because two years later in late October 1979, he arranged for another live album to be recorded from his shows at the Opera House. The album was titled Hearin' Is Believin' and was released by RCA in Australia, Japan and Europe.
On this release, Sammy's more familiar repertoire of songs were eschewed for different material. The choice was eclectic instead, ranging from jazz classics like "Bye Bye Blackbird", to standards like "Begin The Beguine", numbers from musicals like "After Today" from Dr. Dolittle, pop songs such as Barry Manilow's hit "I Write The Songs", and the pop rock of Blood, Sweat & Tears' "Holy John". Unfortunately, similar to his 1977 live album, there were no monologue and little of Sammy's patter with the audience was captured.
By far the most impressive and noteworthy inclusion on the album is the eight-minute-long tribute medley to The Beatles. It was the only time Sammy ever laid down anything by the Fab Four on vinyl, although he had been including a Beatles medley in his live act on-and-off since 1970. Tastefully arranged by Sammy's musical director George Rhodes, the medley is built around George Harrison's "Something" and finishes with a lengthy denouement in which Sammy scats and whistles back-and-forth with the flute soloist.
Whenever he was down under, Sammy would regularly perform on a talk/variety show hosted by Don Lane, an American-born performer who had come to know Sammy personally while appearing as a headline act in Las Vegas in the early 1970s. Lane moved to Australia in 1975 and The Don Lane Show became a permanent fixture on Australian television for the next eight years. Sammy's appearances (sometimes surprising Lane himself) became infamous for running long. Often the show would be pushed well past midnight as Sammy would choose to sing, tap, play instruments or duet with Don – for however long he wanted. 
A week after the concert from which these recordings were taken, Sammy performed at Festival Hall in Melbourne. Australia's Nine Network broadcast a television special of his performance there, hosted by Don Lane, which has been released on DVD as Sammy Davis, Jr. Live In Australia 1979. It is indicative of the comprehensive nature of Sammy's repertoire at the time that there is precious little overlap between the content of the two performances, despite them being only a week apart. A listener to Hearin' Is Believin' would have received a totally different experience to the viewer on TV. 
It was no exaggeration that you could attend a Sammy Davis, Jr. performance every night of the week and never see the same show twice – this was one of the many factors that went into making Sammy a peerless live performer throughout his career. Hearin' Is Believin' is a curious and rewarding snapshot of that talent at work in 1979.
Track listing
| | | | |
| --- | --- | --- | --- |
| Track | Record Date | Song | Time |
| A1 | 24/10/1979 | I Write The Songs | 3:30 |
| A2 | 24/10/1979 | For Once In My Life | 3:15 |
| A3 | 24/10/1979 | On A Clear Day (You Can See Forever) / Up, Up And Away / The Peanut Vendor | 5:48 |
| A4 | 24/10/1979 | John The Baptist (Holy John) | 7:06 |
| A5 | 24/10/1979 | Bye Bye Blackbird | 3:03 |
| B1 | 24/10/1979 | After Today | 3:04 |
| B2 | 24/10/1979 | Begin The Beguine | 4:24 |
| B3 | 24/10/1979 | Beatles Medley: Something / With A Little Help From My Friends / A Day In The Life / She's Leaving Home / Yesterday | 8:40 |
| B4 | 24/10/1979 | The Second Time Around | 1:30 |
| B5 | 24/10/1979 | I'm Not Anyone | 4:25 |
TOP TWO TRACKS

Beatles Medley: In his AllMusic review of Hearin' Is Believin', Eugene Chadbourne writes of this medley: "One of the most interesting things about what is basically a stunning performance is how much the public's perception has changed about this kind of artist doing this sort of material. At the time this medley was recorded, there were undoubtedly plenty of hipsters laughing through their teeth at Sammy Davis, Jr. doing this type of material … But the ensuing decades have resulted in a renewed and indeed growing respect for artists of the Davis Jr. ilk, and the result is that his covers of the Beatles tend to be viewed as an act of great respect by an artist who is every bit up to the task at hand, rather then simply some old geezer trying to be cool."



On A Clear Day (You Can See Forever) / Up, Up And Away / The Peanut Vendor: The title tune of the 1965 musical On a Clear Day You Can See Forever was a staple in Sammy's act for most of his career. Here the song is blended seamlessly with a couple of lines from The 5th Dimension's "Up, Up and Away". Although the LP label lists "The Peanut Vendor" as part of the medley, only a few notes of the song's melody can be discerned as Sammy embarks on a lengthy but winning finish to the number with 'la-la's and scatting nicely supported by a sole electric guitar (possibly Richard Eliot).
DEEP CUTS

John The Baptist (Holy John)​: Sammy was a massive fan of Blood, Sweat & Tears and had been lifting from their songbook for the past decade. This religious rocker was written by BS&T's bandleader Al Kooper, who had spent his formative years sneaking into African American churches to listen to the music, and was in part inspired by the religious fervour on display in the singing there. Not a regular in Sammy's songbook, Sammy turns this into a seven-minute soul screamer. He feels he has to apologetically prepare his fairly conservative audience: "I do this song out of deference to the younger people in the audience, who like this kind of music, and I would also like to say for the people in my age group – this song is painfully loud … but you might find some solace in knowing though it may be painful to your ears, it damn near kills me to do it. But we shall do it."

Begin The Beguine: Cole Porter's famously unconventional tune, which musicologist and composer Alec Wilder called "a maverick, an unprecedented experiment and one which, to this day, after hearing it hundreds of times, I cannot sing or whistle or play from start to finish without the printed music … about the sixtieth measure I find myself muttering another title, End the Beguine." Sammy loved the song; he recorded it once for Decca and once for Reprise, and it remained in his repertory all the way through to the short-lived Together Again tour with Frank Sinatra and Dean Martin in 1988.
Release notes
This album has never been officially re-issued on CD.
For all tracks, this LP is their only appearance to date.