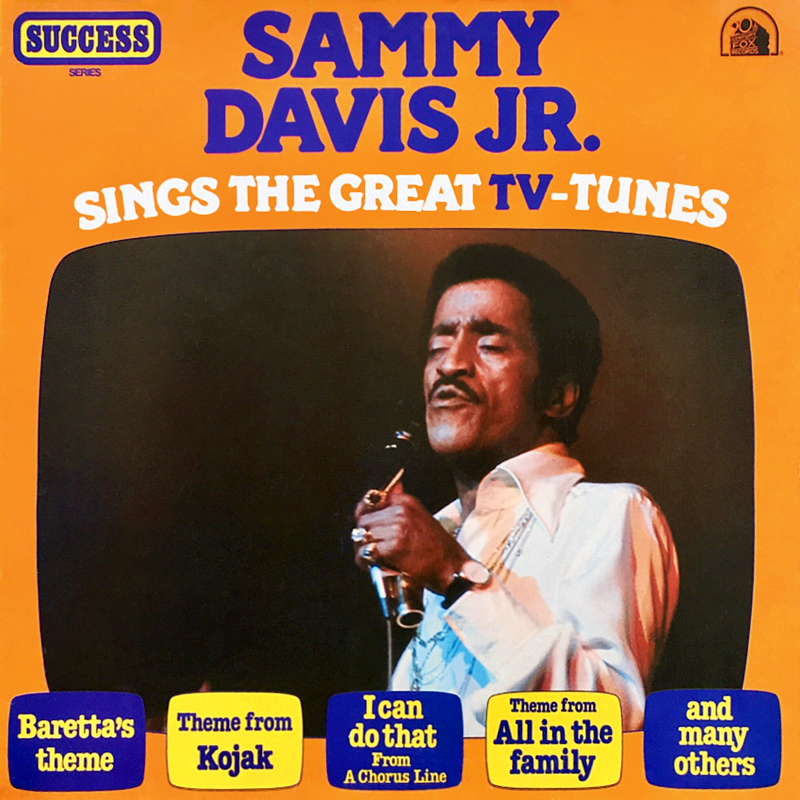 Sammy Davis, Jr. Sings The Great TV-Tunes

Artist: Sammy Davis, Jr.
Format: LP
Label: 20th Century-Fox (Netherlands)
Cat. Num.: 9279-577
Rel. Date: 1977
SDJr.info Rating:
 
Details
Sammy Davis, Jr. signed for 20th Century records in November 1974, but it was clear that the mid-1970s were not a great time for 'middle of the road' singers in the existing recording industry environment. That meant Sammy's output in the United States was restricted to a handful of singles over the next two years (all of which charted on Billboard's Adult Contemporary (AC) chart in the US – at the time called the 'Easy Listening' chart).
One of those singles was Sammy's studio recording of the theme he had recorded for the TV show Baretta, titled "Keep Your Eye On The Sparrow". Unexpectedly, it became a smash hit in Europe, topping the music charts in The Netherlands, Belgium and Sweden. To capitalise on Samy's newfound popularity, 20th Century had Sammy record some more TV themes, and released his existing singles onto an LP which was released in overseas markets only, titled The Song And Dance Man. 
Presumably the album met with some success, because the following year, 20th Century (now re-named 20th Century-Fox Records) released a follow-up album titled Sammy Davis, Jr. Sings The Great TV-Tunes in Europe only (printed and distributed in The Netherlands). Eight of the twelve inclusions were TV themes. Of the other four non-TV-related cuts, three had been released on The Song And Dance Man, and the other was a new recording of "I Can Do That" from the recent smash hit musical A Chorus Line.
Sammy's producer for his sessions at 20th Century was the same as his producer at MGM Records, Mike Curb. Curb had sold his 25% stake in MGM upon his resignation as President of the company in September 1973, but he sale of his stock triggered a non-compete clause which meant he could not run a record label for two years (he would return to launch Warner/Curb in late 1975). However, he was free to continue to produce records, and did so for Donny and Marie Osmond on Polydor, Al Martino on Capitol, and for Sammy Davis, Jr. on 20th Century Records.
For the sessions of TV themes, Curb reunited Sammy with prolific arranger Al Capps. Capps, who in recent years had worked regularly with Andy Williams, José Feliciano and Cher, had arranged for Sammy at Reprise across four sessions in 1968. Producers Jimmy Bowen and Mike Post had attempted to record an R&B album with Sammy, and brought in Capps for arranging duties – the album was a struggle to record but was eventually released as Sammy Steps Out. On this album, Capps gives some of the TV tunes a taste of disco mixed with funk; it was 1976 after all.
Three TV tunes were released on this album for the first time, all three Norman Lear productions. Unlike several of the themes that were released on The Song And Dance Man, at least these three already had lyrics! It was an obvious choice for Sammy to record "Those Were The Days", from All In The Family, given Sammy's appearance on the show in 1972 – to this day universally hailed as one of the greatest episodes in TV sitcom history. Sammy also recorded the themes to two All In The Family spin-offs, Maude ("And Then There's Maude") and The Jeffersons ("Movin' On Up"). Sammy would make an appearance on the latter show, but not until its 10th season in 1984.
Enjoyable despite its limited artistic merit, Sammy Davis, Jr. Sings The Great TV-Tunes has great value as a rare piece of 1970's music and television ephemera. It also marked the end of Sammy's brief relationship with 20th Century Records – by the time the album was released in Europe in 1977, Sammy had joined Mike Curb's new partnership with Warner Records. There would be only a final few singles and LPs remaining in Sammy's recording career.
TOP TWO TRACKS

Those Were The Days: Famously sung by Carroll O'Connor and Jean Stapleton in character as the Bunkers, the theme to All In The Family was written by Charles Adams and Lee Strouse, the composers of Sammy's 1960s Broadway show Golden Boy. The extended lyrics heard in Sammy's version had existed from day one. In fact, Atlantic Records had O'Connor and Stapleton recorded an extended Dixeland-flavoured single that hit the Billboard 100 in 1972. Sammy's version, with a rock beat, disco stylings and ooh-ing background vocals, is classic 1970s bijou. 20th Century released it in The Netherlands as a single (flip side "Movin' On Up") to support the album.



I Can Do That: Sammy's career-long love affair with Broadway continued with this one-off recording taken from A Chorus Line, featuring a story Sammy can tell and a nice Dixieland-flavoured jazz break. Billboard hailed Sammy's take as a "rousing hoofer's anthem". Given that, it's a song that perfectly suits Sammy, although – in a sign of the times – where once he might have taken to doing some tapping on record himself, he chooses to leave that to the percussion unit. Produced by Mike Curb, this was partnered with a recording of "Showtime (For Everyone)" and released as a single on Warner/Curb in October 1977.
DEEP CUTS

And Then There's Maude​: Sammy's kicking version of the theme from Maude contains an additional verse beyond that heard on the show (written by the original lyricists, Alan and Marilyn Bergman), with references to Lysistrata, Isabella I of Castile, Annie Oakley and Queen Elizabeth. It's highly likely Sammy's version provided inspiration for a famous parody on the 2007 Family Guy episode "No Meals on Wheels", in which the theme contains a comically large number of historical references to Madame Curie, Clara Barton, Susan B. Anthony, Pocahontas, Indira Gandhi, Babe Zaharias, Amelia Earhart, and Cleopatra. This version was performed by Arnold McCuller.

I Heard A Song: A tribute to John F. Kennedy, Martin Luther King, Jr. and Bobby Kennedy. Written by soft-rock country singer-songwriter Marty Cooper, the song appeared as "I Wrote A Song" on Cooper's 1972 debut album A Minute Of Your Time. Sammy's cover changes only the word 'wrote' to 'heard' in the lyrics, but consequently changes the song's title. Sammy's cover was recorded for a special double LP featuring multiple artists, commissioned by Congress and the National Endowment for the Arts in order to celebrate the United States' bicentenary. Produced by Roy Ruff and Mike Curb, and titled Happy Birthday U.S.A., it was released on 20th Century during 1976.
Release notes
This album has never been officially re-issued on CD.
Some tracks were released onto compilation CDs in the early 2000s, and those are currently available for digital download via these compilations.
Three recordings are believed to have never made it onto CD, nor are downloadable: "I Heard A Song", "Love Is All Around" and "And Then There's Maude".
 1991
The Best Of Sammy Davis, Jr. And The Mike Curb Congregation
Curb Records D2-77444
Contains "Those Were The Days", "Movin' On Up", "Snap Your Fingers", and "I Can Do That".
 2002
Lounge Legends: Sammy Davis, Jr.
Polydor/Universal 5-89791-2
Official compilation CD using the original masters.
Contains "You Can Count On Me", "Keep Your Eye On The Sparrow", "We'll Make It This Time", and "Chico And The Man".
 2002
20th Century Masters: The Millennium Collection
Polydor 440 065 083-2
Official compilation CD using the original masters.
Contains "A Legend In My Time" on CD.