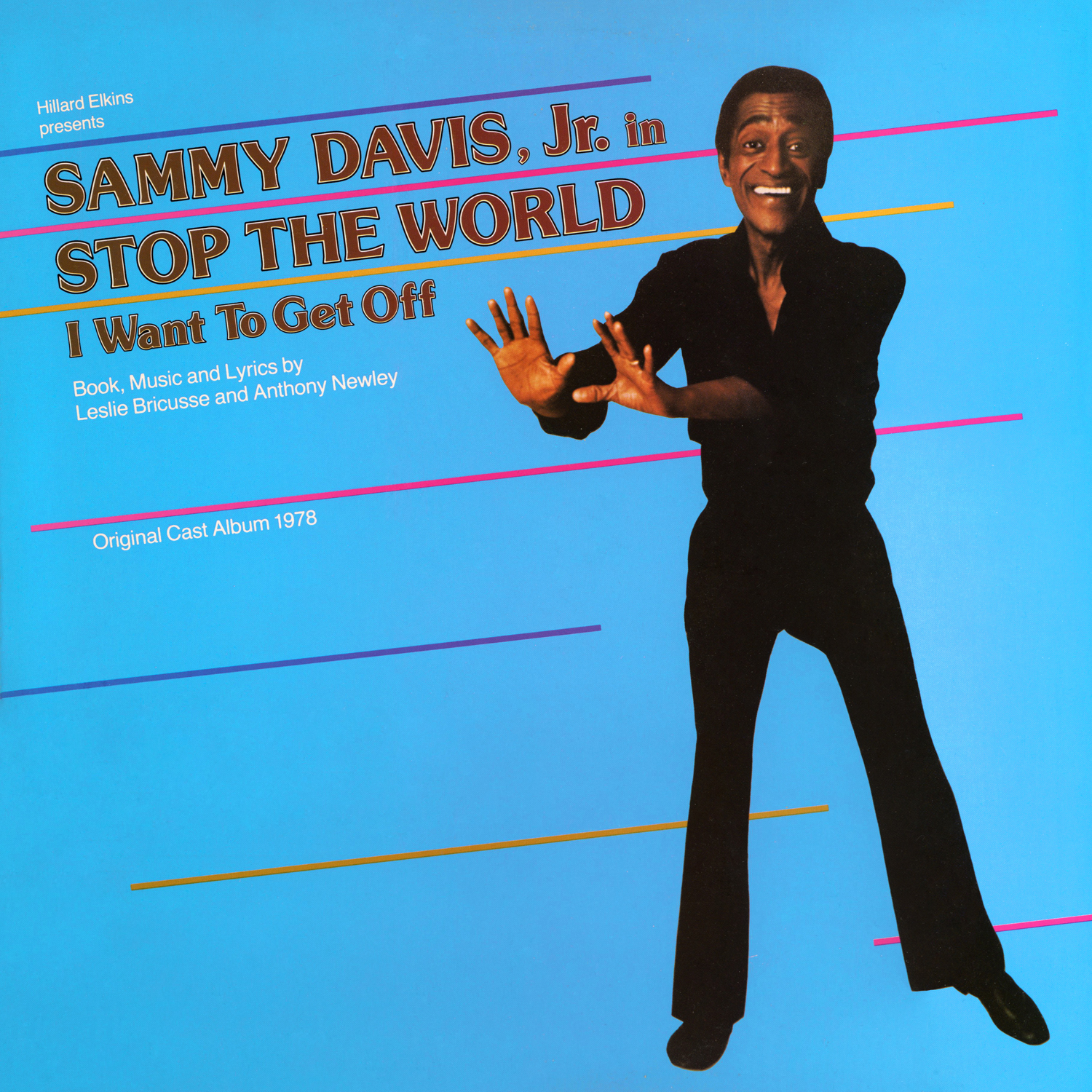 "Stop The World – I Want To Get Off" – Original Cast Album

Artist: Sammy Davis, Jr.
Format: LP
Label: Warner/Curb
Cat. Num.: HS-3214
Rel. Date: 1978
SDJr.info Rating:
 
Details
When in London in the early 1960s, Sammy Davis, Jr. had forged a firm friendship with song writing duo Anthony Newley and Leslie Bricusse, a friendship which would bear fruit his entire career (Sammy recorded well over 40 Bricusse titles). Sammy was captivated by their musical Stop The World – I Want To Get Off when it opened in London, in July 1961, and he recorded several of the main songs from the production for Reprise over the next year. 
In 1978, the stars aligned for Sammy to get the chance to star in a revival of the musical that he loved so much. The revival would be helmed by Sammy's Golden Boy producer, Hilly Elkins. Sammy told the Chicago Tribune: "When Stop The World opened on Broadway I was prepping for Golden Boy. I saw it and said, 'Jeez, I got to do that show one day' … I finally got to the point where I said 'at the age of 52, if I don't do it within the next couple of years, I ain't never going to do it.'"
For more details about the musical itself – its development, production, and the critical reaction – please see the page on this site dedicated to Stop The World – I Want To Get Off (1978).
Rehearsals began on 24th April, and the show opened on 19th May in San Diego, before moving to Los Angeles and Chicago before its premiere on Broadway on 3rd August. In preparation Sammy locked himself away, telling The New York Times: "What I did to prepare for this show was I isolated myself … I moved out of the house – my wife just loved that – and I rented an apartment and stayed there every night, I started preparing my throat. No problems, no cop‐outs. When we went into rehearsals, I sang out."
The cast album was recorded in the week before tryouts started in San Diego, and it is certainly true that Sammy's voice – despite being less sonorous than in his heyday – was in excellent shape. Some songs were removed from Stop The World's original 1960s run, and Bricusse and Newley re-wrote the book and some lyrics to update the show from class-conscious Britain to race-conscious America. The duo also provided Sammy with a custom-written new song to close Act I, "Life Is A Woman".
Several songs like "What Kind Of Fool Am I", which had been staples of Sammy's live act for over 15 years, were now being performed in context, and so required new interpretation. Sammy told Jay Carr: "I was in love with this show from the beginning. All three songs were hits for me in America before the show opened here. But the way I do them in the show is completely different. Now I sing those songs in character. I have no delusions of grandeur, I know I'm still a variety performer, but I want to de-Sammy Davis, Jr.-ize me this time. Physically, the challenge is not to do any of the things, the Sammy-Davisisms."
The show is very much built around its protagonist, and Sammy's character, Littlechap, appears on ten of the 14 numbers on the album. This includes three in which Sammy duets with his co-star, Tony-winning actress Marian Mercer. The album provided a faithful representation of a production that was widely acclaimed during tryouts, but left the Broadway critics distinctly unimpressed. While Sammy's performance was universally hailed as impressive (and indefatigable), the awkward attempts to update proceedings together with the more modern orchestrations of the music had seemingly robbed the show of its originality. 
For fans of Sammy Davis, Jr., however, the cast album provides the curiosity of a different approach to some songs with which they would otherwise be very familiar.
Track listing
| | | | |
| --- | --- | --- | --- |
| Track | Song | Artists | Time |
| A1 | Overture / The ABC Song | Orchestra / Chorus | 2:43 |
| A2 | I Wanna Be Rich | Sammy Davis, Jr. | 3:01 |
| A3 | Typically English | Marian Mercer / Sammy Davis, Jr. | 5:30 |
| A4 | Gonna Build A Mountain | Sammy Davis, Jr. / Chorus | 4:35 |
| A5 | Lumbered | Sammy Davis, Jr. | 3:19 |
| A6 | Glorious Russian | Marian Mercer | 2:15 |
| A7 | Meilinki Meilchik | Marian Mercer / Sammy Davis, Jr. | 4:15 |
| B1 | Typische Deutsche | Marian Mercer | 2:59 |
| B2 | Life Is A Woman | Sammy Davis, Jr. | 4:12 |
| B3 | All-American | Paula Wayne | 2:49 |
| B4 | Once In A Lifetime | Sammy Davis, Jr. | 2:56 |
| B5 | Mumbo Jumbo | Sammy Davis, Jr. / Chorus | 3:50 |
| B6 | Someone Nice Like You | Sammy Davis, Jr. / Marian Mercer | 4:00 |
| B7 | What Kind Of Fool Am I | Sammy Davis, Jr. | 4:04 |
TOP TWO TRACKS

Gonna Build A Mountain: A sensational arrangement (by Newley and Bricusse's long-time musical collaborator Ian Fraser) of this classic Broadway production number. Given the lyrics, the full-on gospel atmosphere works like gangbusters with this song, which builds nicely to a barnstorming finish. The interaction with the chorus certainly works far better than Sammy's original 1961 recording on Reprise records, which made do with just a few relatively uninterested 'yeah, yeahs' in the background; here the tables are turned and it's Sammy's turn to 'yeah, yeah'!



Life Is A Woman: A brand new song written specifically for the 1978 revival. The doyen of Broadway blogging, Jeff Lanes, writes "Sammy was given a new number to close the first act called "Life Is A Woman" which he socked across the footlights with his usual pizzaz; but it seemed more suited to Vegas than to the special, delicate qualities of Stop The World." From all accounts, this general impression probably held true about the entire show. (Sammy also recorded "Life Is A Woman" in the studio as a vehicle for some impressions – which are chiefly of Anthony Newley and make the cut borderline unlistenable. It was later released with fake applause added onto the Curb Records Greatest Hits, Live, and is one of the most esoteric items in Sammy's entire recording oeuvre.)
Release notes
This album has never been officially re-issued on CD.
Of the 14 recordings on the LP, three have been released onto compilation CDs, and may be available for download. For the remaining 11 recordings, this LP is their only appearance to date.
 1990
Greatest Songs
Curb Records D2-77272
Contains "Gonna Build A Mountain" and "What Kind Of Fool Am I".
 1999
Yes I Can! The Sammy Davis, Jr. Story
Rhino R2-75972
Contains "Life Is A Woman".