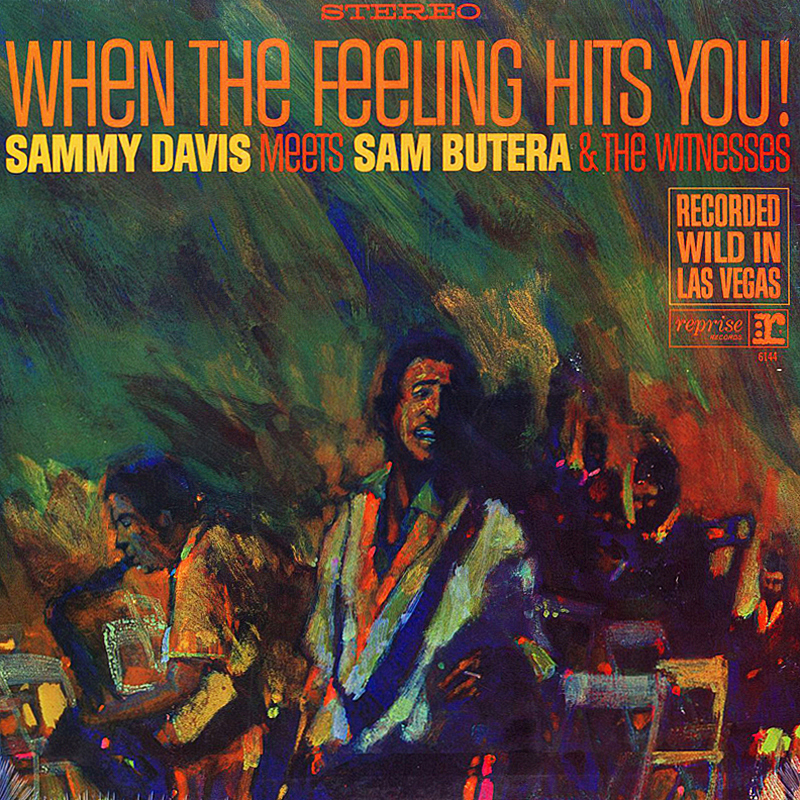 Details
In 1954, Sammy Davis, Jr. signed a landmark contract with The Last Frontier Casino in Las Vegas; in the same year, Louis Prima and his wife Keely Smith began performing at The Sahara. Prima's brother, Joe, owned the 500 Club in New Orleans and recommended a local tenor saxophonist for the position of bandleader in his brother's new act: Sam Butera. 
Over the next half-decade, Sammy Davis, Jr, Louis Prima, Keely Smith and Sam Butera would become four of the biggest names in Las Vegas, and this album brought two of these four Vegas luminaries together. Sammy and Sam knew each other well and regularly attended each other's shows on the strip (Sammy once convinced Sam to add "Chantilly Lace" to his repertoire). 
Butera was regularly featured in Prima and Smith's act, and quickly became well-known for his boisterous and energetic playing style, loud voice and sly wit. Butera and his band, The Witnesses, provided Louis Prima's uptempo fusion of jump blues, swing jazz and rock'n'roll. Between 1956 and 1962, Sam Butera and The Witnesses backed Prima on his LPs recorded with Capitol and Dot Records, and released several solo LPs themselves.
Prima and Keely Smith divorced in 1961, with Gia Maione replacing Smith in Prima's act (and subsequently marrying him in 1963). Ultimately, Butera and The Witnesses would back Prima for over 20 years (Prima was diagnosed with a brain tumor in 1975) and continue to back Keely Smith for years beyond that.
Prima started his own recording company in 1962, Prima One, and Butera released an album on it called Thinking Man's Sax in 1964. At this point, The Witnesses' personnel had changed considerably since its halcyon days of the late 1950s, and Butera's own sound was much more contemplative than the trademark 'jump, jive and wail' sound The Witnesses were still providing to Prima. Butera would borrow a little from each approach when he stepped into the recording studio with his pal Sammy Davis, Jr.
It was late April 1964, and Sammy was at the conclusion of his final engagement at The Sands in Las Vegas before heading to New York to begin rehearsals for his upcoming Broadway show, Golden Boy. There was no knowing when he'd be back … and in these recordings Sammy's voice occasionally displays the wear expected of someone at the end of enjoying a big couple of weeks in the world's pleasure capital (little did Sammy know what the rest of 1964 would bring for his soon-to-be tortured tonsils).
Regardless, the two Sams laid down ten outstanding tracks across two days in the studio (an 11th track, "My Kind Of Town", remains unissued). At no point do proceedings even border on Louis Prima mimicry – instead, Sammy's straightforward approach is perfectly complemented by a range of excellent arrangements by Butera – some uptempo, some punchy, some jazzy, some melancholy. The song selection is also noteworthy: with the exception of the title track "When The Feeling Hits You!" (1962) and "Cry Me A River" (1955), all the songs originate from the 1930s and 1940s.
Providing exceptional support throughout, The Witnesses at this time consisted of Bobby Rozario on piano, Roland J. DiLorio on bass, Jimmy Vincent on drums, Lou Sineaux on trombone, and Morgan Thomas on trumpet. 
The LP's cover says 'Recorded WILD in Las Vegas' and while this might incorrectly imply it's a 'live' recording, it is doubtful a single misled listener has finished the album and still been disappointed – it is one of the best of Sammy's under-the-radar successes.
TOP TWO TRACKS

Don't Cry, Joe (Let Her Go, Let Her Go, Let Her Go): This classic down-on-your-luck saloon song is given the perfect treatment with a particularly moody sax solo from Butera. Written by clarinetist Joe Marsala in 1949 for GIs who had returned home from World War II to find their sweethearts married to others, it was a hit for both Johnny Desmond and Frank Sinatra. With this recording, Sammy proves he can commiserate in song with the best of them.



Do Nothing Till You Hear From Me: This was the second time Sammy had recorded the Duke Ellington standard (the first time being on I Gotta Right To Swing), and this time's a real winner. Butera weaves a clever repeated motif throughout the song's arrangement, and Sammy brings the right level of earnestness to the table.
DEEP CUTS

Cry Me A River: Sammy and Sam take the oft-recorded torch song, light a fire under it and get it to really cook – pausing only for a brief interlude where he is accompanied by solo piano. Made famous by Julie London, surely this is the greatest popular song to include the word 'plebeian'.

I Should Care: An unusually upbeat arrangement of this standard, which was written for the 1945 MGM film Thrill Of A Romance. A lively Sam Butera sax solo precedes a big finish as Sammy keeps the energy going. When this cut appeared on the compilation CD Sammy And Friends in 2000, it was the first appearance of any of the recordings from this LP on CD. Sadly, the entire album had been ignored on the seminal 1999 Rhino 4 CD boxset Yes I Can! The Sammy Davis, Jr. Story.
Release notes
This album received an official reissue by Collector's Choice in the US.
It is also readily available for download and on streaming platforms.
2004
When The Feeling Hits You!
Collector's Choice Music CCM-490
Official reissue. Excellent liner notes from James Ritz.

2009
When The Feeling Hits You!
Rhino/Warner Bros.
Available for download and streaming.