Details
In 1971, Sammy Davis, Jr.'s recording career was at a crossroads. He had released an album with Motown records which was a commercial disaster, and his manager Sy Marsh had cleverly managed to extricate Sammy from the Motown contract. But where to now? Sammy landed at MGM Records under the eye of record label wunderkind Mike Curb, who was in the midst of successfully transforming The Osmonds from a variety show curiosity into a bona fide pop band. Curb had recently made waves in the industry with his stern anti-drug stance.
For more details on Sammy signing and recording with MGM, please see the page on this website dedicated to an account of Sammy's overall recording career.
Sammy's first MGM session was held on 19th August 1971. Sammy recorded two songs written by Mack David and Mike Curb himself: "I Am Over 25 (But You Can Trust Me)", a reaction to the youth culture revolution, and "Time To Ride", which had just been released on Donny Osmond's eponymous debut album. In addition, Mike Curb wanted Sammy to lay vocals over a track that he had already recorded with his own musical group of young singers, The Mike Curb Congregation. The song? "The Candy Man".
Sammy was appalled at the thought. He recalled his reaction in his second autobiography Why Me?: "I've heard the song. It's horrible. It's a timmy-two-shoes, it's white bread, cutems, there's no romance. Blechhh! Get outta here. Can you imagine me, a swinger, a cat that's done everything ninety-two times around the pike, and I'm going to sing to kids? Like I'm Julie Andrews? Who's gonna buy this? It's stupid. Blechhhh, blechhhh, blechhhh!" 
The song was from the movie Willy Wonka And The Chocolate Factory (which had been released in theatres only a couple of weeks earlier), and it had been written by Sammy's favourite composers, Leslie Bricusse and Anthony Newley. This latter fact may have been the reason Sammy swallowed his pride and cut the track. Mike Curb was delighted with what he had in the can. At the conclusion of the session, Sammy told Sy Marsh: "This record is going straight into the toilet. Not just around the rim, but into the bowl, and it may just pull my whole career down with it."
Instead, the total reverse occurred. "The Candy Man" became the most successful single of Sammy's career. After debuting on the Billboard charts on 11th March 1972, the single remained there for over five months, peaking at #1 on 10th June (where it remained for three weeks). "The Candy Man", was certified Gold and would stay with Sammy as a signature tune for the rest of his career. It is difficult to pinpoint an explanation for the song capturing the zeitgeist so completely (although the later suggestion that the lyrics intentionally referred to drugs would have shocked Curb, and probably would have been news to Bricusse and Newley).
MGM had a massive hit record on their hands, around which they could market Sammy's first full album release on the label. Sammy had recorded three more cuts for MGM – Jimmy Webb's "MacArthur Park", "This Is My Life" (based on an Italian song which had recently become an anthem for Shirley Bassey) and "Take My Hand", which were all included on the new LP – titled Now.
MGM also included four titles that Sammy had brought with him as part of his departure from Motown, all of which had been produced by Sammy's Reprise producer, Jimmy Bowen. These were: "I Want To Be Happy" (a brass-heavy funkified update to the 1925 standard), "Have A Little Talk With Myself" (a cover of a Ray Stevens number which had briefly appeared on the country charts in 1970), "Willoughby Grove" (a little-known and mildly mawkish reflection on nostalgia and industrialisation) and "I'll Begin Again", from the 1970 film Scrooge.
Finally, to provide the requisite street-cred Sammy was no doubt seeking, MGM included Sammy's recording of the "Theme From Shaft". Mike Curb had created a new venture between MGM and Stax Records in order to do the music for MGM's blaxploitation film Shaft, and Stax's Isaac Hayes had been selected to write the score. The title theme won the Academy Award for Best Song in 1972, and Hayes became the first African American to win any Oscar in a non-acting category (in a year in which Sammy became the first African American to host the Academy Awards). 
Curb brought in Hayes and the original arranger Onzie Horne to personally produce Sammy's version, now titled "John Shaft", and extended lyrics were provided by Stax's long-time writer Bettye Crutcher (some lyrics beginning with the word 'motha-' were removed). Like the original, Hayes and Horne's arrangement for Sammy is a fascinating melding of pop, soul, jazz and disco, featuring plenty of over-the-top electric guitar. Despite Sammy's unconvincing seventies street-lingo affectations (which doubtless landed the recording on Golden Throats 2: More Celebrity Rock Oddities), it's a great way to close the album.
Following multi-million dollars losses under its previous directors in 1968-69, Mike Curb's strategy with MGM Records was to steer it toward 'middle of the road' music (MOR). The success of "The Candy Man" helped propel Now up the Billboard album charts. "The Candy Man" was aggressively marketed as 'The M.O.R. smash' and Now was given a glorious gatefold fold-out LP cover ('It's an album, it's a poster, it's a hit!' screamed the marketing copy). It all worked a charm: Now was on the Billboard 200 for 26 weeks, peaking at #11, becoming Sammy's most successful album since 1955.
TOP TWO TRACKS

MacArthur Park: Jimmy Webb's famous ultra-long four-movement pop song was a #2 hit for British acting legend Richard Harris in 1968. Sammy had actually recorded the song in October of 1968 with H. B. Barnum arranging and Jimmy Bowen producing, but there was something about Sammy's vocals that hadn't quite worked (this recording was eventually released onto a special LP collection titled Sammy in 1976). Three years later almost to the day, Mike Curb and Don Costa produced a similar but superior arrangement and everything fell into place, making it one of the best tracks on Now. Sammy deals with the lyrics unironically – as they were intended by Webb, who's on record as saying: "Those lyrics were all very real to me – there was nothing psychedelic about it to me. The cake, it was an available object. It was what I saw in the park at the birthday parties. But people have very strong reactions to the song. There's been a lot of intellectual venom."



I'll Begin Again: If there's anything Sammy loved to do, it's a musical showstopper, and if there's anything he loved more than a musical showstopper, it's a musical showstopper written by Leslie Bricusse! This one comes from the conclusion of Bricusse's 1970 film adaption of A Christmas Carol, titled Scrooge. Recorded while Sammy was at Motown, it was placed on one side of the only single released on the Ecology label, Sammy's personal label formed in partnership with Motown. It is classic Sammy: a song of self-affirmation, arranged by Ernie Freeman, produced by Jimmy Bowen and with a big Sammy surge finish. It's brilliant, but Motown it ain't.
DEEP CUTS

Take My Hand​: A stirring, inspirational piece of pseudo-patriotic pop which Sammy belts out to a bold arrangement by Perry Botkin, Jr. Having never been heard of before or since, where did the song come from? From a musical titled The Selling of the President, based on a bestselling book of the same title. "Take My Hand" is the campaign theme of a fictional candidate for the Presidency willing to do anything his media manipulators ask. Why is the song so little known? The show opened on 22nd March 1972 and closed three days later, having been ripped apart by the critics…

I Am Over 25 (But You Can Trust Me): An obscure and quickly dated attempt to engage with the youth culture with which Sammy was unwillingly but inevitably losing touch, this sincere but sententious piece was written by Mike Curb and Mack David. Sammy does his best – but he is not dealing here with top drawer material and it was somewhat repeating ground he'd already been over with 1967's "Don't Blame The Children". It starts off with a swashbuckling (and catchy) brass fanfare that was confined to the dustbin of history until it was resurrected by Robbie Williams in 2015 and sampled into "Sensational" on his album The Heavy Entertainment Show, giving the thunderous riff a new lease of life.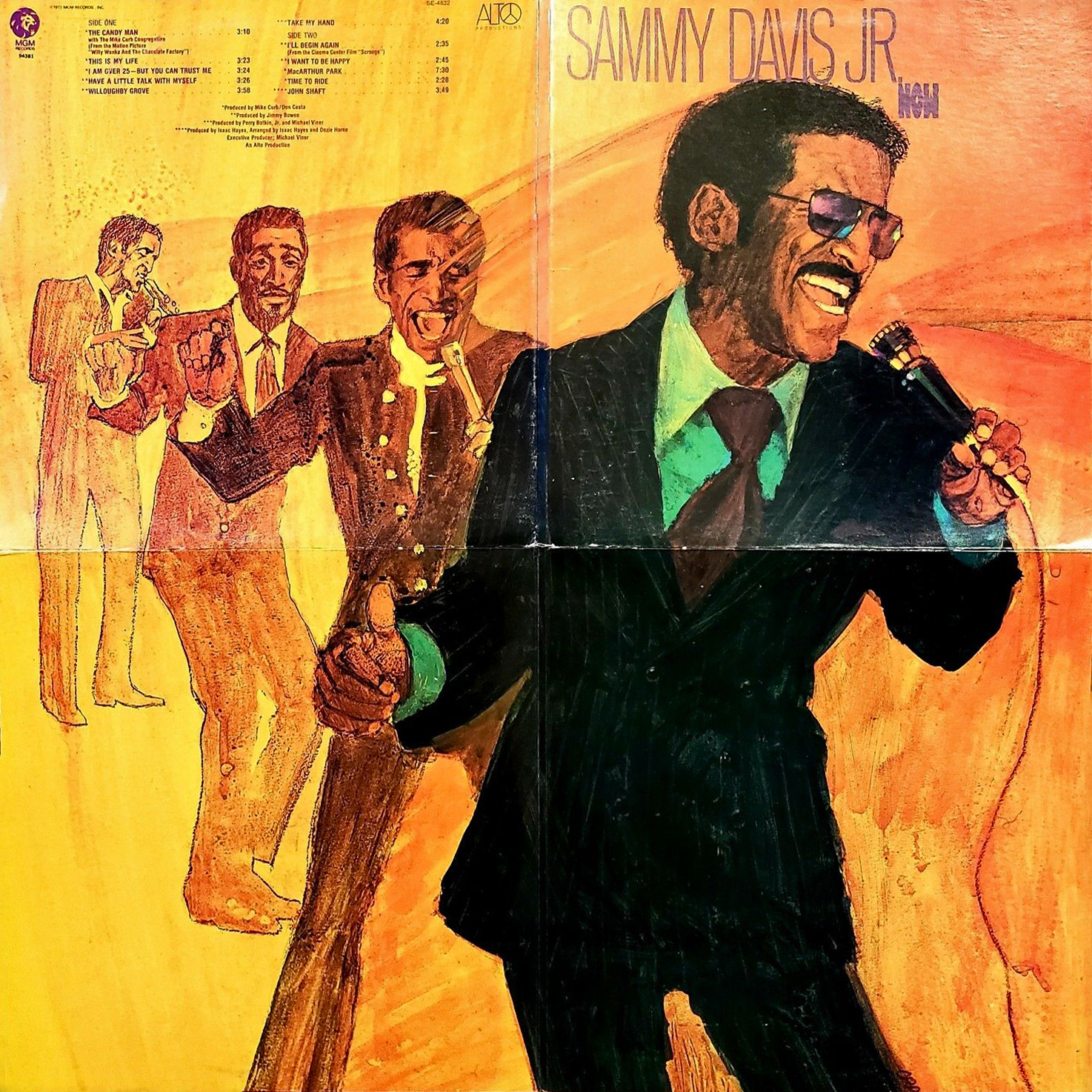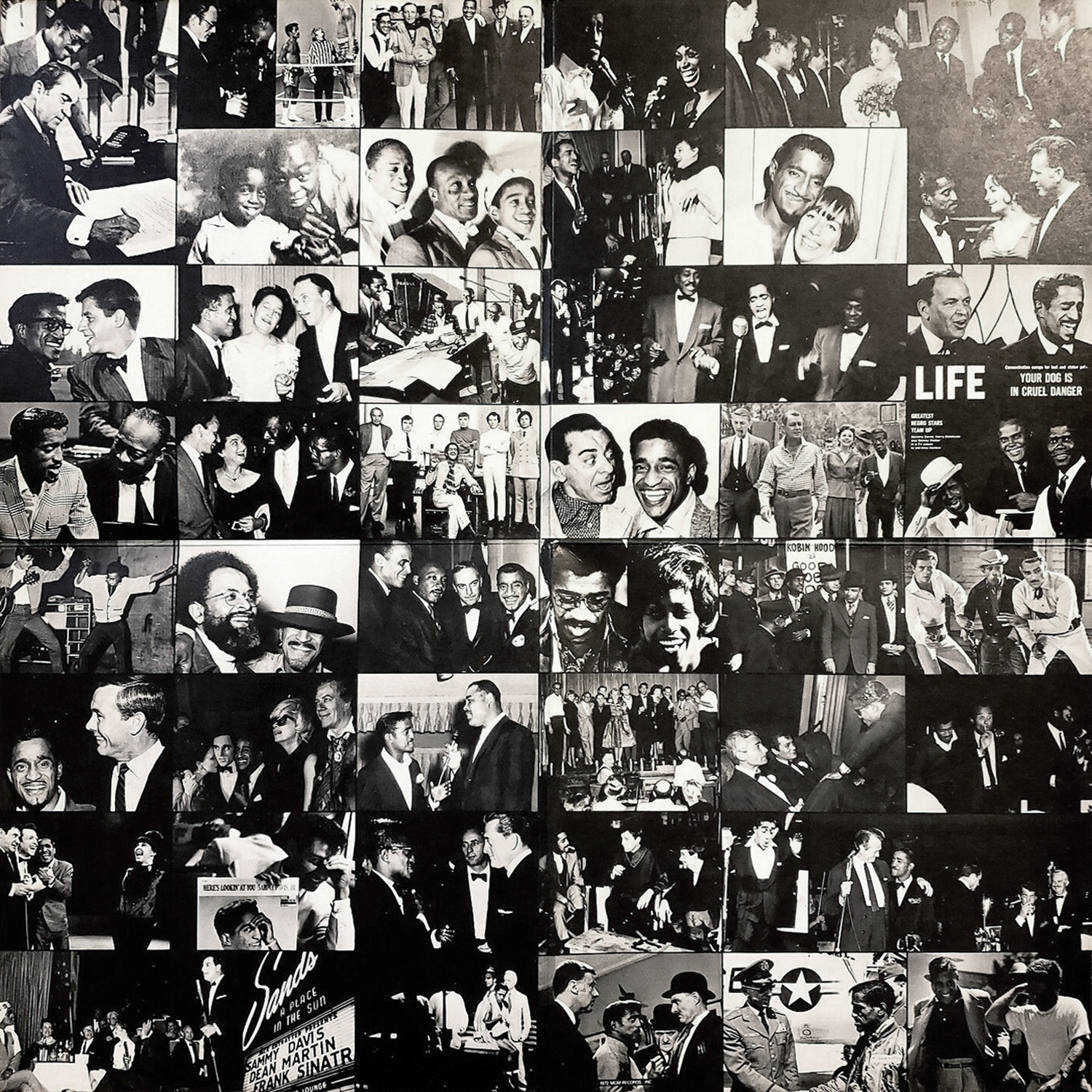 Release notes
This album has only been officially re-issued on CD once, in Germany.
All tracks were released onto compilation CDs from the late 1990s and early 2000s. All tracks are currently available for digital download via these compilations.
The only version of "Time To Ride" released on compilation CDs has fake applause added at the end.
 2002
Lounge Legends: Sammy Davis, Jr.
Polydor/Universal 5-89791-2
Official compilation CD using the original masters.
Contains 8 of the 11 tracks on Now. Missing are "Have A Little Talk With Myself", "Macarthur Park" and "Time To Ride".
 2002
20th Century Masters: The Millennium Collection
Polydor 440 065 083-2
Official compilation CD using the original masters.
Only known compilation appearance of "Have A Little Talk To Myself" on CD.
 1999
Mr. Bojangles
PolyGram Special Markets 314 520 542-2
Official compilation CD using the original masters.
Only known compilation appearance of "Macarthur Park" on CD.
 1995
Greatest Hits, Live
Curb Records D2-77687
Only known compilation appearance of "Time To Ride" on CD.
Because this CD was marketed as a 'live' CD, fake applause has been added at the end, but this is the original LP recording until that point.
 1992
Now
Spectrum 511542-2
Released in Germany. Licensed reissue using original masters.