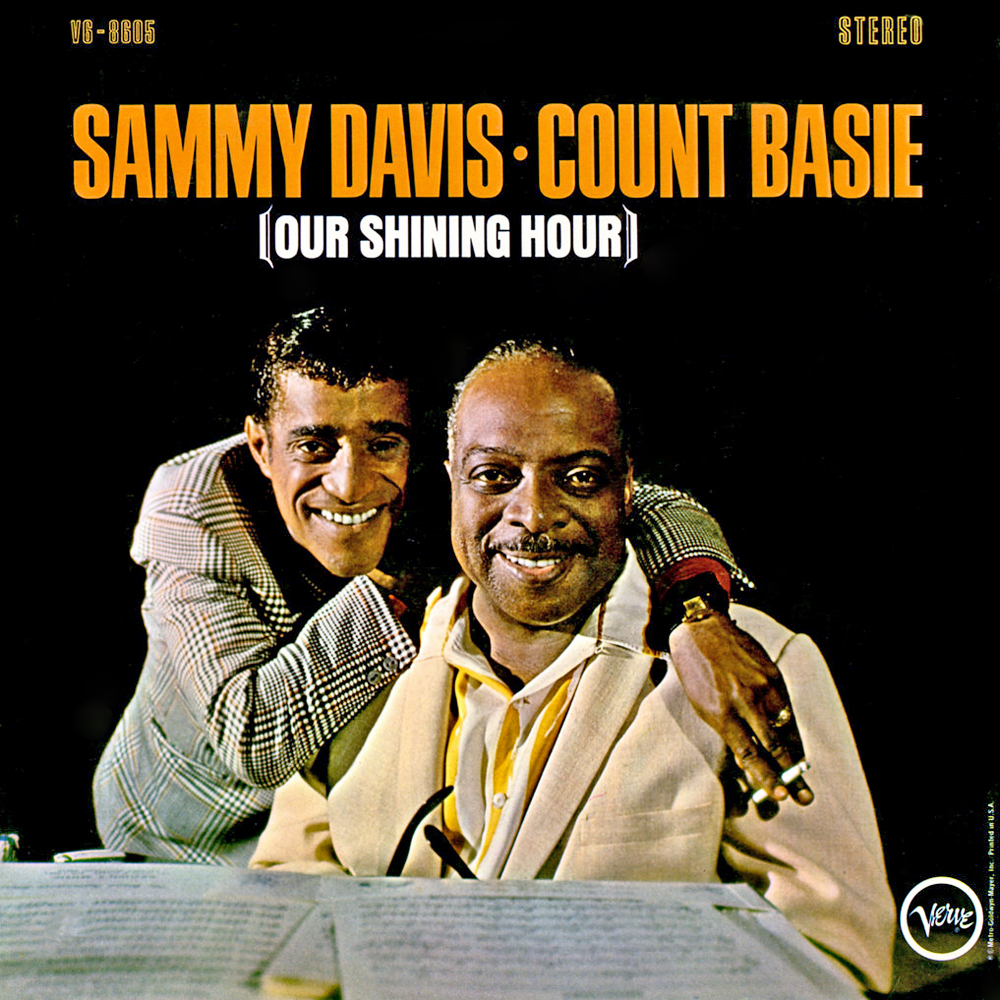 Details
Legendary bandleader William James "Count" Basie had known Sammy Davis, Jr. since Sammy was 15 years old, and Sammy Davis, Jr. had known Quincy Jones since Quincy was 12 years old: it seemed inevitable that the three would join forces at some point, and Our Shining Hour is that dynamite collaboration.
Quincy had arranged Basie's 1963 album with Ella Fitzgerald (Ella and Basie!) and Frank Sinatra's second album with Basie (1964's It Might As Well Be Swing) so it was no surprise that Sammy would be next cab off the rank. In truth, Sammy had beaten Frank to the punch, recording with the full Count Basie Orchestra back in 1960 on I Gotta Right To Swing! for Decca, but the Count himself was forced to sit out due to contractural reasons.
This time around it would be Sammy who hopped labels, from Reprise to Verve, for this official partnership. Our Shining Hour was recorded in New York City in September 1964 when Sammy had a few days off from tryouts in Detroit of his upcoming Broadway show Golden Boy. By this point in its development, Golden Boy was a hot mess, and the production was rehearsing a new show during the day while performing an older version at night. The toll on Sammy's voice was immense, and the last thing he needed during his days off was to be recording an album.
You can clearly hear the parlous state of Sammy's voice throughout the record, but amazingly, it doesn't matter. The material selected is first rate (including a couple of titles with civil rights meaning), Quincy Jones' arrangements are perfect (he arranged all but two of the titles, George Rhodes arranged the remaining two, "Blues For Mr. Charlie" and "The Girl From Ipanema"), and Sammy brings an energy to the microphone that makes up for the occasional growl and the limits on his high register. Sammy and the band are totally in sync throughout.
Sammy was obsessed by Basie's famous 'one more time' finish on 1955's "April In Paris", and used it frequently in his act. Despite recording the song just four months earlier with Sam Butera and The Witnesses on When The Feeling Hits You!, Sammy dutifully recorded the tune again, this time with the Count himself at the piano (and with the short chorus repeated at the end, of course). It was, in fact, the first song they recorded at the start of the first session.
Perhaps the most noteworthy track is the final one, on which Sammy requests a little buck dance music (from 'buck and wing' dance) in honour of his father Sam Sr. and Will Mastin, and then does some soft shoe, accompanied by the Count. Although it was not the first time Sammy had been captured tapping in the recording booth (that honour goes to his 1949 Capitol 78 "Smile, Darn Ya, Smile"), it was clearly a joy for Sammy, and the Count was certainly impressed, saying at the conclusion: "That's it! One take? It ain't get no better than that!"
Count Basie knew what he was talking about…
Track listing
| | | | |
| --- | --- | --- | --- |
| Track | Record Date | Song | Time |
| A1 | 3/9/1964 | My Shining Hour | 2:10 |
| A2 | 2/9/1964 | Teach Me Tonight | 3:05 |
| A3 | 5/9/1964 | Work Song | 2:12 |
| A4 | 4/9/1964 | Why Try To Change Me Now | 3:24 |
| A5 | 4/9/1964 | Blues For Mr. Charlie | 3:42 |
| A6 | 2/9/1964 | April In Paris | 2:45 |
| B1 | 4/9/1964 | New York City Blues | 2:51 |
| B2 | 2/9/1964 | You're Nobody Till Somebody Loves You | 2:58 |
| B3 | 4/9/1964 | She's a Woman (W-O-M-A-N) | 2:21 |
| B4 | 3/9/1964 | The Girl From Ipanema | 4:07 |
| B5 | 4/9/1964 | Keepin' Out Of Mischief Now | 2:51 |
| B6 | 5/9/1964 | Bill Basie Won't You Please Come Home | 2:38 |
TOP TWO TRACKS

Blues For Mr. Charlie: James Baldwin's confronting play Blues For Mr. Charlie, a social commentary drama loosely based on the murder of Emmett Till, opened in New York in April 1964. Singer and songwriter Bobby Sharp saw the play and composed this piece in tribute. Sharp recorded the song himself, and for a time was Baldwin's staff songwriter. Sammy, who was friendly with Baldwin, delivers the right mix of defiance and irony, supported by an excellent George Rhodes arrangement. The play closed a couple of days before this recording was made.



New York City Blues: "Meet you at Sugar Ray's, baby! New York!" Sammy revels in this tribute to New York City, written by Quincy Jones and Peggy Lee for her 1962 Blues Cross Country album. Here Sammy makes it his own – after all, at the time 'New York's my city' wasn't just a lyric for Sammy.
DEEP CUTS

She's A Woman (W-O-M-A-N): Another Jerry Leiber and Mike Stoller R&B classic, this one made famous by Peggy Lee as "I'm A Woman". Sammy makes the gender-reversal work nicely, breezing through the tricky lyrics, all while the Basie band wails in fine support.

The Girl From Ipanema: Sammy loved everything that was in fashion, and that included the bossa nova craze of the 1960s. But while Frank Sinatra would go full-bore jazz samba with this number when recording with Antônio Carlos Jobim a few years later, Sammy had to make do here with simply putting a bossa nova spin on what is still very much the Count Basie sound. The result is a winner, though – a great sax solo (probably by Sal Nistico) is a highlight.
Release notes
This album has received regular official reissue on CD.
It is also readily available for download and on streaming platforms.
Sammy was clearly disappointed at the state of his voice during this period. He convinced Capitol to let him re-record songs from the Golden Boy Cast Album in early 1965 when his voice sounded better. But with Verve not being his regular label, he was out of luck with this album. Until 1971, that is, when he signed for MGM, which had bought Verve back in 1961. This gave Sammy and his producers access to the Verve vaults, and he duly released a new Count Basie album in 1973 on MGM with re-recorded vocals over the top of alternate takes from this 1964 Verve session. Because the vocals were all newly recorded, this release will be treated as an entirely new album.
 1990
Our Shining Hour
Polygram/Verve 837 446-2
Official reissue. Includes a tribute to Sammy Davis, Jr. written by Quincy Jones from an article in Rolling Stone in June 1990.
This packaging has seen wide release and has been continually 'in print' since then.
1992
Our Shining Hour
Verve (Japan) POCJ-2084
Japanese CD re-issue, with lyric sheet.
 
 2003
Our Shining Hour
Folio (Italy) EFVEi-085
Italian CD release, possibly unlicensed.
 
 2004
Our Shining Hour
Verve (Japan) UCCV-9183
Japanese CD re-issue, with lyric sheet.
 
 2008
Our Shining Hour
Verve Records
Available for download and streaming.
 2019
Our Shining Hour
Verve (Italy) I Capolavori Del Jazz In Vinile #20
Vinyl reissue. Part of a special reissue collection, this packaging includes the LP, reproductions of the front and back cover, plus an 8-page booklet with biographies of Count Basie and Sammy Davis, Jr. and detailed liners notes with histories of each song.