Prompted by the birth of a beautiful baby girl to friends of mine yesterday, today's Sammy Davis, Jr. Pic of the Day (left) is of Sammy and his wife May Britt soon after the birth of their daughter on 5th July, 1961.
When May, then 27, went into labour a couple of weeks early, Sammy, then 35, was on the Hollywood studio set of the second 'Rat Pack' film, Sergeants 3. He made it to Cedars of Lebanon Hospital (then in the midst of a merger with Mount Sinai Hospital) just in time for the birth.
The baby girl was named Tracey Hillevi Davis. Her first name was a tribute to Spencer Tracy, and her middle name was May's mother's maiden name. Despite the early birth, she was born a healthy 7 pounds, 14 ounces.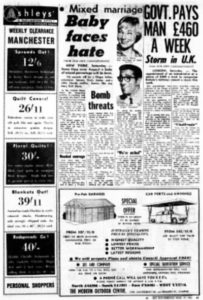 Given the public attitudes toward interracial relations at the time (Tracey was born only a few months after President Kennedy had disinvited Davis from his inauguration because of his marriage), Sammy and May received bomb threats after May's pregnancy was announced, and there was much media commentary regarding the baby's future. From as far away as Australia, the Sydney Morning Herald reported on 19th March, 1961:
"Some time next August a baby of mixed parentage will be born. His parents will be a Negro father, entertainer Sammy Davis Junior, and a white blonde mother, former film star May Britt Davis. In the United States, where the integration problem is reaching boiling point, the baby's birth will probably have tremendous social significance. But Davis said, "I don't care whether our kids are black, white or polka-dot just so long as they call me daddy." May said, "We'll love them and protect them and hope for their happiness as we hope for our own."