Last Friday, the entertainment world was saddened by the news that Adam West had passed away, aged 88. West was the star of the 1966 TV series Batman, and played the title role with such brilliant sincerity and comic genius that generations of viewers got to enjoy the series twice – adoring the show at face value as youngsters, only to later discover the satirical humour when rewatching as adults.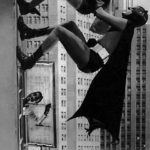 There was no fad which Sammy Davis, Jr. didn't wish to explore, and the Batmania of 1966 led to a cameo appearance on the show in what was the hottest celebrity ticket in Hollywood at the time: a guest spot in a Batman bat-climb.
Sammy appeared on the episode title "The Clock King's Crazy Crimes", which was an episode written by Bill Finger. Finger, a comic book writer, was the co-creator of Batman himself in 1939, along with Bob Kane, a comic book artist who worked for DC comics for over twenty years.
Kane retired in 1966, just as Batman started airing, and moved to California – to paint, and socialise with the rich and famous, including Sammy Davis, Jr. The two became friends, and can be seen together in today's Pic of the Day (left). Sammy's episode of Batman aired 12th October, 1966.