When it comes to little-known songs from little-known musicals, surely "All Dressed Up And No Place To Go" from Rumple (lyrics by Frank Reardon, music by Ernest G. Schweikert), must have been one of the more obscure recordings of Sammy Davis, Jr.'s career. A kind of "Top Hat, White Tie and Tails" for the socially unfortunate, it's actually a great showcase for Sammy – there's a nice arrangement from Jack Pleis, and some whistling and soft-shoe from Sammy along the way.
Opening on Broadway at the Alvin Theatre on 6th November 1957, Rumple was an eccentric musical comedy about a comic strip illustrator Nelson (Stephen Douglass), who gives up his work after surviving an airplane crash. His two most famous characters, Rumple (Eddie Foy) and Anna (Barbara Perry) come to life and plead for further adventures, lest they be condemned to the land of Oblivia. Foy received good notices from the New York critics, but the show did not.
Gretchen Wyler played the writer of the comic strip, and according to Jack Gaver in the Monroe Morning World, "Wyler carries off a couple of rousing song-and-dance numbers with her usual skill". One of these numbers was "All Dressed Up" (that's all the song was titled in the show's playbill). The production had a contract with Decca Records to record a cast album; no surprise, then, that Sammy Davis, Jr. had already recorded one of the show's top tunes (presumably with a gender switch in the lyrics).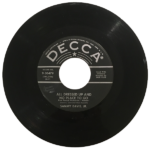 Released on a Decca single a month before the show opened (b/w "Moment of Madness"), the success of the single doubtless emulated the success of Rumple itself: an eternity in Oblivia. The show lasted just 45 performances before closing on the 14th December 1957, the planned cast album recording on Decca got cancelled, and the show hasn't been heard of since.
In 1963, Decca Records decided to release a new Sammy Davis, Jr. album, despite the fact that the artist himself had long since disappeared to record for Frank Sinatra's Reprise Records. The Decca archives were scoured for unreleased recordings, and singles which had not previously appeared on a Davis LP. Most the songs chosen had a musical theatre genesis, and hence Forget-Me-Nots For First Nighters was born, with "All Dressed Up" included.
That was the last appearance for the recording – which failed to make its way into any subsequent Sammy compilations on LP or CD, nor is it available anywhere for download or streaming. [Update: The track was included on the 2019 Stage Door Records CD release Lost Broadway: 1956-57.]